What do Canadian online shoppers want from merchants when they make a return? According to recent research, most (84%) want free returns shipping.
Customer desires aside, less than one quarter of Canada's top 200 e-commerce merchants offer free returns. When you're busy offering a positive customer experience, competitive pricing and maintaining sustainable margins for your business, providing free returns shipping can be a real blow to your bottom line.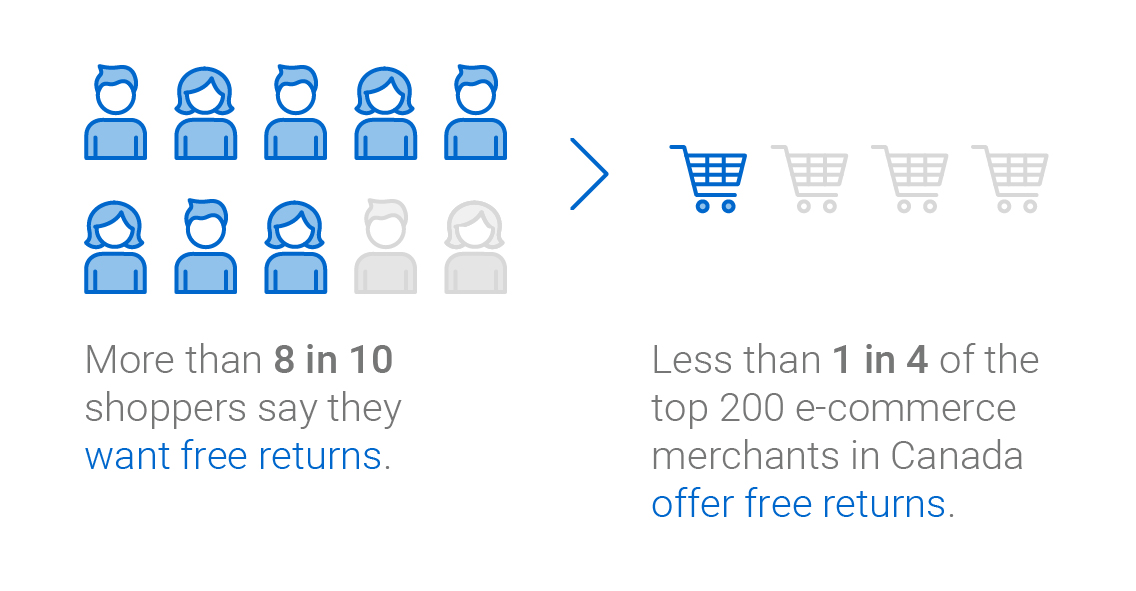 Lowered expectations
Everyone loves getting something for nothing, but most shoppers understand that free returns are only free for customers, and that merchants can't always afford to provide them. Canadian shoppers are often willing to compromise by sharing the cost of returning an item – under the right circumstances.
Finding middle ground
Handling the cost of returns, without compromising on customer satisfaction, fits within the classic eye-for-an-eye mentality. 64% of shoppers would avoid shopping online with merchants that don't accept free returns by mail or courier, but, two thirds of shoppers would reconsider if the cost of returns was shared.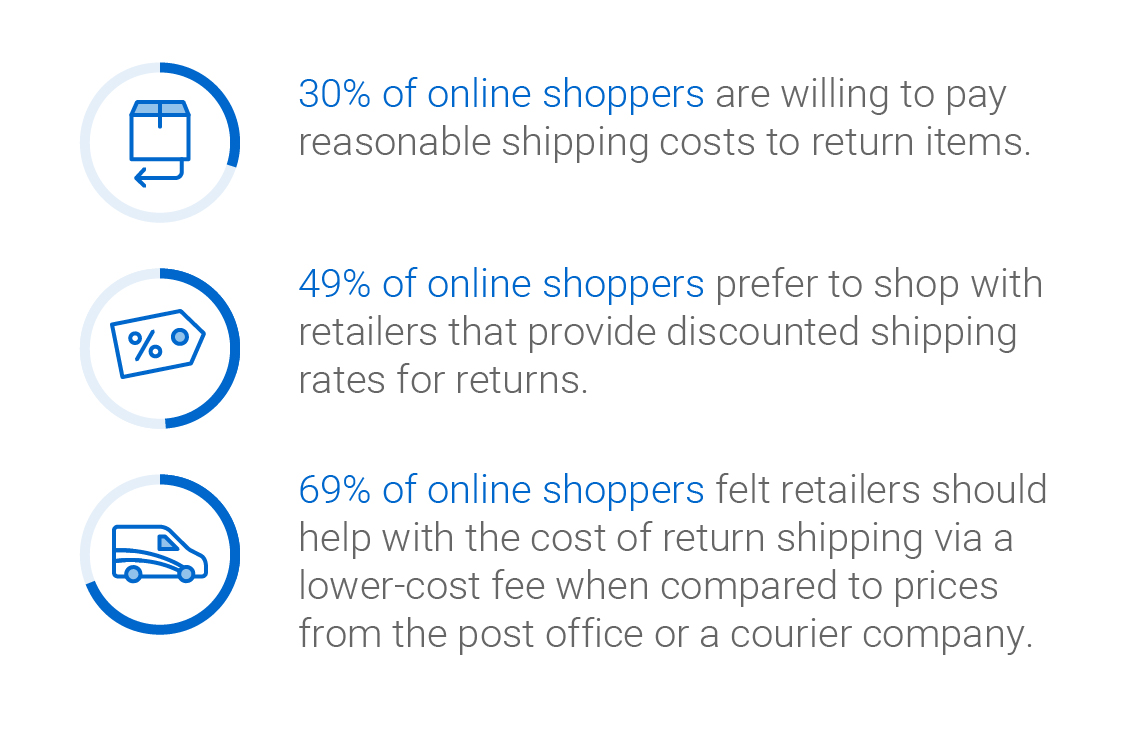 A customer's openness to compromise depends largely on the reason for the return. At times, customers believe the merchant should bear the full shipping cost. For example, if the merchandise purchased is defective or substandard, most feel that the merchant should pay for the return. In other scenarios, shoppers are willing to share the cost, or pay in full.
Every industry is different. Most people wouldn't try to return beauty products after trying them, but a footwear and apparel purchase is a different story. Nearly seven in 10 shoppers said the cost of return shipping should be paid by the customer when they purchase multiple sizes or colours (knowing they'll return what doesn't fit or look good). They're willing to take on that responsibility as part of their shopping strategy.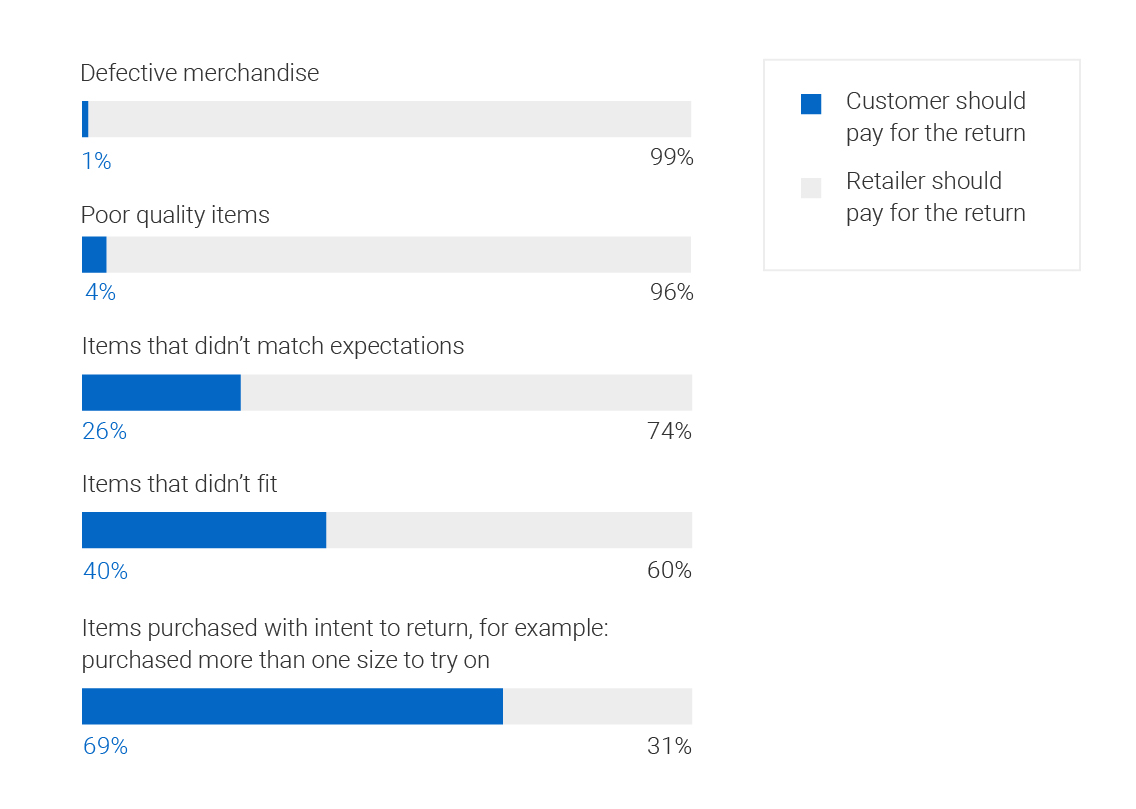 How to reduce the cost of returns and keep customers happy
Merchants can avoid absorbing the full cost of returns and keep customers content. It's all about putting yourself in your customers' shoes and thinking creatively.
Clarity and convenience is key
Research shows that Canadians want clear, simple and convenient online shopping experiences. Aritzia, for example, has a brilliant returns process. They manage to meet their customers' expectations while decreasing the cost of returns by deducting a small handling fee from the value of the refund. Other retailers across the country follow similar strategies in order to offer a strong, but realistic, returns experience to customers.
Managing cost and expectations creatively is also key
Here's how savvy Canadian businesses are managing customer expectations, protecting their margins and sharing the price tag of returned merchandise:
A restocking fee. Instead of absorbing the full cost of shipping, shoppers may be open to a small deduction from the overall refund – a cost associated with handling a return.
Credits toward future purchases. Instead of a refund, shoppers are issued an online or in-store credit, providing a reason to return and shop.
A flat or discounted rate to ship returns. This tactic takes the sting out of the cost of return shipping. By offering a flat rate returns fee, the cost becomes less of an obstacle to purchase.
Learn more about how to delight shoppers while managing the cost of returns.
Download the report
Managing customer expectations with compromises
Here are some standard compromises that businesses can make to manage their customers' expectations and remove barriers to purchase:
Communicate a clear returns policy. Make your store's returns policy clear and accessible. You'll manage customer expectations and reduce misunderstandings. Shoppers placing orders can make informed choices. If they choose to make a return, there will be no surprises.
Encourage informed purchase decisions. In general, the fewer returns a business has to handle the better. Provide plenty of product information, such as high-quality imagery, descriptions and measurements. This way customers can shop confidently and return merchandise less frequently.
Add return-to-store for more choice. For an omni-channel merchant with a physical presence, take advantage of brick-and-mortar locations to offer online shoppers more flexible return options and lower returns costs. In-store returns present an opportunity for a knowledgeable sales associate to exchange an item rather than lose a sale.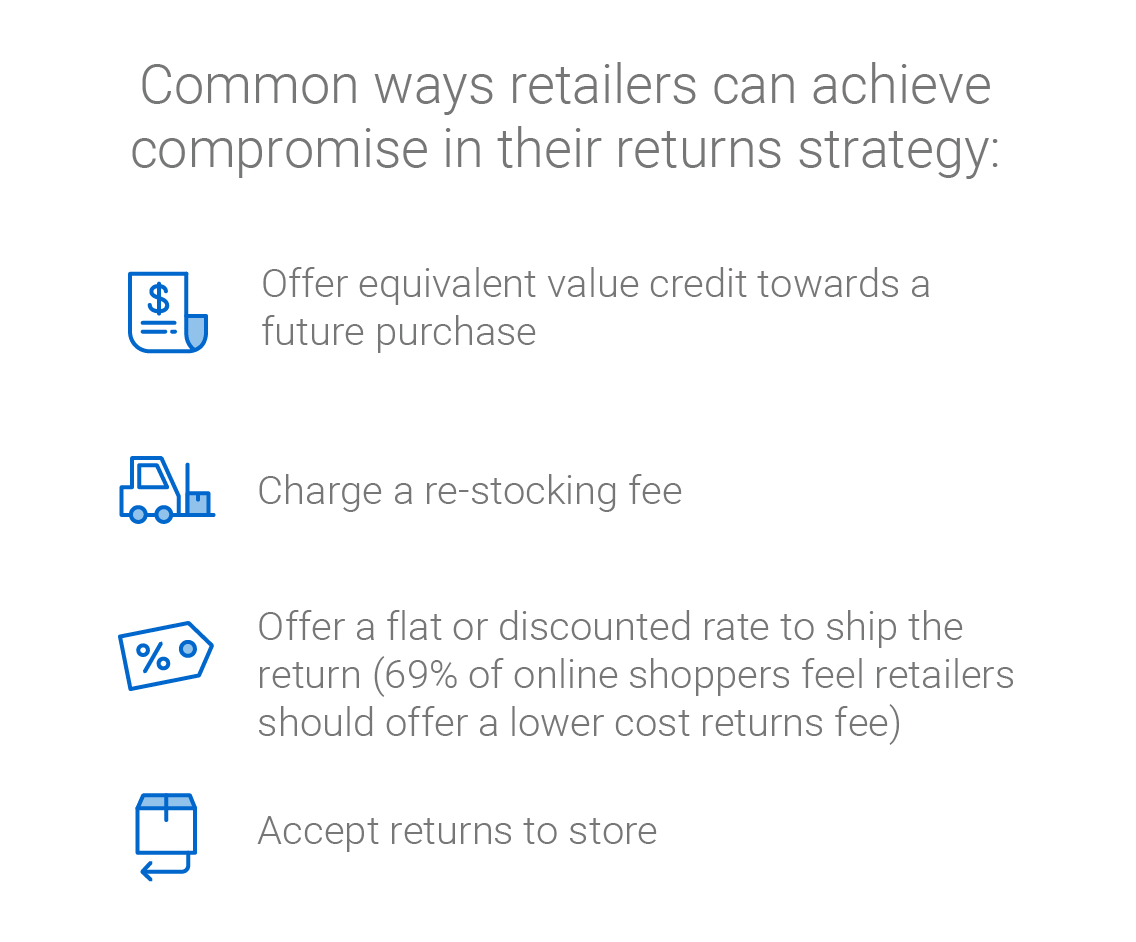 How you handle your returns is important for your business. Whatever tactic you choose, make your returns policy clear, easy to find on your website, and as customer friendly as possible.
How can we help?
Learn from our e-commerce research, practical tools and industry partners.
Contact an expert
Sources
1 Canada Post. E-commerce returns: From costly complication to competitive advantage, 2017
2 2018 Canadian Online Shopper Study, CPC 18-200, April 2018
3 2016 Canadian Online Shopper Study, CPC 16-202, April 2016