Prior to COVID-19, there was a clear line drawn in the sand between physical retail and e-commerce. Fast-forward to March 2020 – physical distancing is in effect and many storefronts have been forced to close – and retailers and consumers alike now rely heavily on e-commerce to sell and purchase their goods. A recent study revealed that 29 per cent of Canadian consumers are making online purchases instead of shopping in store, and 39 per cent of Canadians plan to keep shopping online while the COVID-19 outbreak continues – making e-commerce more important than ever.
As storefronts across the country gradually reopen, retailers are focusing on creating a safe and comfortable space for their employees and customers. This means ensuring your selling channels – both online and offline – are working in a complementary way. It will help you serve your customers, maximize conversions, and manageably distribute traffic.
To help your business adapt to the new normal, we've compiled tips, guidance, promotional suggestions and creative inspiration to help you maintain your e-commerce presence while adjusting your retail presence. Our goal is to help you strengthen your business by giving you the tools you need to keep pace with the evolving market. If you're ready to optimize your e-commerce strategy, here's what you need to do:
Clearly communicate your policies and protocols to shoppers
Your website should serve as the information hub of your business. Shoppers will turn to it to learn about the precautions and practices you have put in place in your physical store. They want to know what government guidelines you're implementing and if you're going above and beyond to keep your customers safe while shopping with you. You should highlight this information across your online storefront and share it via email and your social media channels. Be explicit about what you're doing and what you're asking shoppers to do in order to keep everyone safe.
Urban Outfitters shares engaging graphics that outline their in-store safety precautions on their website.
To assist retailers with their reopening plans, the Retail Council of Canada – in partnership with Boston Consulting Group – has released recovery playbooks designed to help retailers leverage best practices when it comes to ensuring a safe environment for employees and customers. You can download their recovery playbooks here.
Use your online presence to drive omni-channel success and keep shoppers in the loop
As you continue to find unique and innovative ways to succeed, keep shoppers in the loop when it comes to any changes you've made to your services. Some of the fastest-growing retailers have pivoted their strategies to get their products into the hands of shoppers in the safest and most efficient ways possible. As you work on stabilizing your business, and focus on your operational challenges, think about how your online presence can support your physical store. Use our checklist below as inspiration for ways to let your customers know that you're open for business and are operating with their safety in mind:
Highlight shopping options. How are you getting your products into the hands of shoppers? If you're now offering in-store shopping, selling products online through your branded website or marketplace, offering curbside pickup, etc., put pertinent information front and centre so shoppers can choose how they shop with you.

Indigo promotes free shipping and contact-free curbside pickup options to customers on its website.

Display clear and current information about product availability. Synchronizing inventory across sales channels is key to encouraging a balance of online and offline store traffic across your network. By displaying in-store and online product availability, you'll provide the best possible experience for your shoppers.
Offer contactless payment. The primary benefit of e-commerce is that payments can be made online from the comfort of one's home, or on the go from a mobile device. Inventory synchronization is so important when it comes to online purchases. It allows you to offer options like ship-to-store, curbside pick-up, and more. Think about how you can promote contactless payment options that are hygienic for customers. These will help you address current health concerns and will reinforce that your business offers purchase security and fraud prevention. If you've implemented a tap payment option, be sure to let customers know.
Modify the try-before-you-buy experience. The heart of many retail experiences is being able to try out products in store prior to making a purchase. To maintain physical distancing in fitting rooms, many retailers are closing some of their rooms, cleaning them between use, and even setting aside tried-on items for a period of time before putting them back onto the sales floor. Think about the alternative options you can provide to encourage safety and informed purchase decisions. This could mean exploring virtual try-on experiences and/or ensuring that your product pages have plenty of information. You could share detailed descriptions, measurements, and high-quality product imagery to encourage your customers to visualize wearing or using an item themselves.

Eyewear retailer BonLook uses cutting-edge technology to enable online shoppers to try on their favourite styles virtually.

Display a clear, concise and convenient returns policy. Many retailers have adjusted their returns policies and encourage the mailing of returns to provide reassurance to customers and reduce in-store contact. This gives shoppers the option to drop their returns at a convenient post office location (Canada Post has over 6,200 post offices across the country) or at one of Canada Post's 22,000 street letter box locations. Adopting this strategy will enable your employees to focus on serving your in-store customers and reduce physical interactions with customers that aren't necessary.
Factor in realistic timing. If you've struggled with extended shipping, processing, or delivery times, be sure to let your customers know. This will help you manage their expectations for when their orders will arrive and what channel they should use to purchase from you based on when they would like to receive an item. This applies to your returns process as well. If you're isolating items for a period of time prior to processing them, factor in that time and let them know that their return might take a bit longer to process. They'll be more understanding if you emphasize the precautions you are taking to keep everyone safe and minimize risk of spreading the virus.
Market to your customers like it's peak season
Current Canadian online shopper behaviour is comparable to holiday season buying behaviour. Customers want a simple ordering and delivery process and are motivated by promotions and incentives. Aim to provide promotions frequently. Be sure to feature them on your website and in a select mix of marketing channels.
Studies have shown that there's been a spike in digital media consumption recently – which includes social media, digital news, and on-demand viewing. As consumers spend more time at home, it's more likely your communications will be read as they provide a much-needed pause from the daily routine of working from home, cooking, tending to children, etc.
Source: Angus Reid. Covid-19 Weekly Monitoring of Canadian Perceptions & Behaviour, Wave 5, April 15, 2020.
Use thoughtful promotions to maximize conversions
Timely promotions are key when it comes to engaging customers right now. Shoppers are looking for great deals and discounts that go beyond essentials. Consider staggering different promotions for impact and driving traffic directly to your website.
Here are some key promotions that you could use to drive conversions:
Online flash sales. Sales like these could promote items that give your customers joy amidst uncertainty. Short-term sales can also be used to move high-inventory products or out-of-season items. The key to running a successful flash sale is timing. Keep in mind that short sales drive urgency but super-short sales can limit reach.

Le Chateau promoted a $5 flash sale on over 1,500 store items on their website.

Percentage discounts. Offering percentage discounts (e.g., 20 to 40 per cent off) is a popular and effective promotion strategy designed to move inventory quickly. They can produce high conversions. Discounts of 20 per cent or less can help a business maintain a decent profit margin on sales, while 40 per cent and higher discounts can stimulate meaningful increases in traffic.
Buy one, get one (BOGO). This promotion strategy is typically used to move inventory quickly. It's a good option if you have a lot of a certain product in stock. It can be applied in two ways: buy one, get one free, or buy one, get the second item for X per cent off.

DAVIDsTEA promotes a special buy-one-get-one 50% off promotion on tea tins on their website.

Free Shipping. Many retailers have opted to offer free shipping during this time to make online shopping more accessible and to promote their brand to a new segment of shoppers. It's a promotional tactic that drives sales and enhances the customer experience. Offering free shipping is not for every business. Your product offerings will dictate if you are able to offer it without restrictions or with a minimum purchase threshold.
Free Returns. Offering free shipping on returns is a big deal for customers. It can greatly influence their decision to shop with you or a competitor. Customers will shop more confidently with you knowing that they can get their money back if needed. This tactic can also turn browsers into buyers.
Enhance your communications with direct mail
For greater impact, consider using direct mail to amplify your message. Email inboxes are full to the brim right now, but mailboxes aren't. Now is the time to use physical media to stand out. Direct mail is an effective tool for acquiring and retaining customers before, during, or after peak periods. Why? Because it reaches audiences at home – where most buying decisions are made.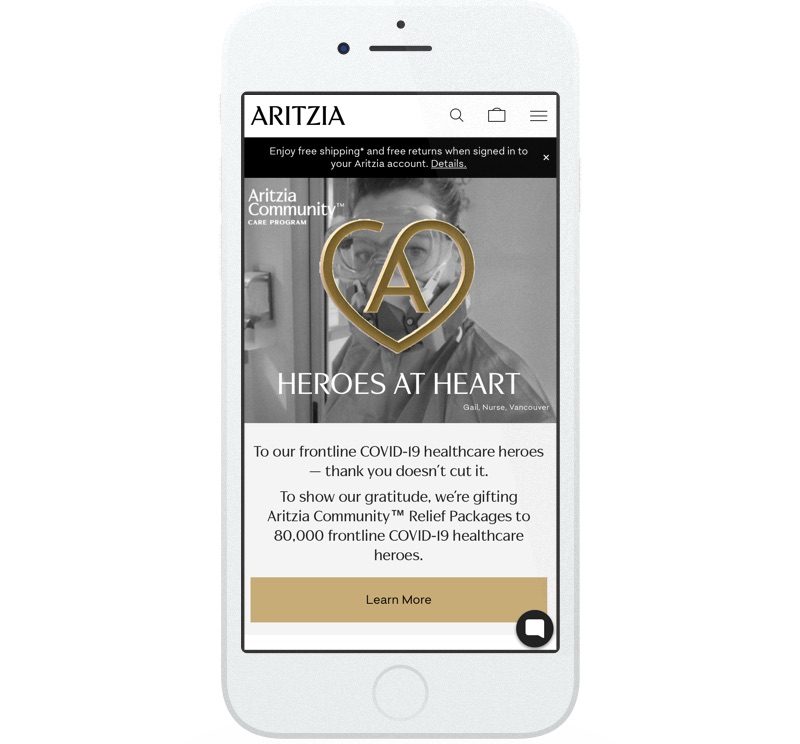 Aritzia promotes free shipping and free returns on their website for account holders. They also promote their community outreach initiative – the Aritzia Relief Packages program for frontline workers.
We hope these ideas inspire you to optimize your e-commerce strategy during this challenging time. The learning doesn't have to stop here. Get free e-commerce tips and resources delivered directly to your inbox by signing up here.
Looking for more? Explore our library of COVID-19 articles – designed to set your business up for success in the evolving market. Browse articles.
Remember, we're here to support you. Get the latest information on delivery service alerts, postal outlet locations and COVID-19 updates. View updates.
Get expert e-commerce help
Whether you're just starting or optimizing as you grow, Canada Post's e-commerce experts can help.
Contact an expert