Sussex Beard Oil Merchants is a line of men's grooming products. The business began with a recipe that owner Matt White invented in 2012. In November 2015, White successfully pitched his product on an episode of Dragons' Den. His modest e-commerce business faced a major surge in sales, shooting up 300%.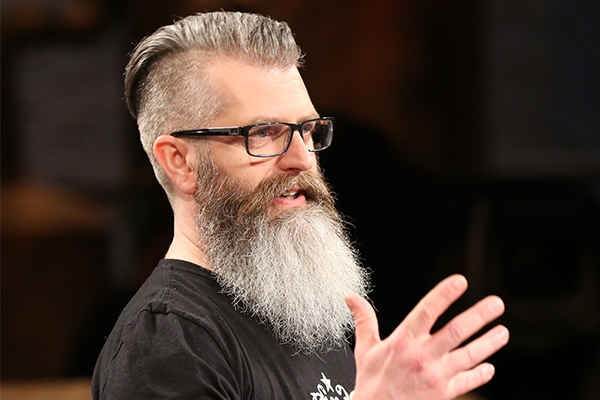 THE STORM
"Seconds after my segment aired (on Dragons' Den) my phone started buzzing with orders and didn't stop. By the time I woke up the next morning I had almost 100 orders waiting. Every three minutes an email came in with an order and that didn't stop for about two or three months."
"Our social media went nuts. Everything went crazy. I had as much stock as I could afford to have, but we ran out. We were sold out of almost everything within two or three weeks. I had no system in place to do labelling. I was trying to muddle through."
Matt's experience is not unique. Many businesses that have appeared in the den have experienced exponential growth after the episode aired, and some have fared better than others in handling it. Matt dealt with the sudden surge in sales like a pro.
Matt knew that unprecedented growth was a definite possibility. That's why he prepared for it as much as possible.
"We taped in April and the show aired in November. As soon as I came home from the taping, I woke up to 'Wait a minute, what if this really does happen? Am I ready for this?' I did as much as I could afford to because I was still doing everything on my own dime. I've had to kind of back up in some ways, and start all over again. In other ways I've advanced a lot."
Here's how Matt handled the tsunami of orders, and how you can prepare for a surge of your own sales:
Tap into available resources
"We have a ridiculous amount of resources in this country when it comes to entrepreneurship. I've been extremely fortunate to get help from (government agencies) and an organization called Learn Sphere. They have provided so much. People didn't hesitate to come to my rescue and help me in every way they could. If I didn't have help like that, there's no way I'd be where I am right now."
Build a strong website
"We had a really good website, but we knew that chances were the server wouldn't handle the traffic. Through LearnSphere, we were able to get a small business grant to get our social media and our website up and running (with a professional hosting company)."
"I did some research to understand how plugins work, how certain things won't directly connect with another. Fortunately, I worked with people who were good at letting me know what was happening. They weren't expecting me to write code, but they did want me to appreciate what was being done and how it worked. I became part of the process, not just a pain to the people doing it."
"We're in the middle of revamping everything again to get it ready for the holiday season. There's a lot of content we didn't have at the beginning that I want to make sure we have now!"
Need to build an e-commerce website? We can make the process easy.
Don't do it alone
"Get over yourself. You can't do everything. Those who try to do everything themselves will not last. You need to be okay with asking for help and input. If you try to do everything yourself, it will kill your business quicker than anything."
Simplify your shipping
"When I started, I was hand-writing addresses on deliveries, taking them to post office and thinking 'Man this is big time.' Now I have a system where an order comes in, I press two buttons and it spits out a shipping label that I can put on a package, and everything is done accurately. Even considering the amount of orders that came in last holiday season, I can handle that now without breaking a sweat."
Can your business handle an influx of orders? Solutions for Small Business can help.
Sign up for free