As e-commerce continues to rev up exponentially as a result of COVID-19, Canadians are shopping online more than ever before. Retailers are doing what they can to keep up with this surge in online activity by finding unique and innovative ways to scale up their business and get products into the hands of customers. With online retail transactions on the rise, it's critical for e-merchants to ensure that they have strong fraud prevention and detection practices in place to protect themselves and their customers.
To protect your online business from fraud, here are some key considerations, steps, and measures you can take to manage the risk:
Incorporate Address Verification (AVS) checks at checkout
An unauthorized user might not know what billing address information is associated with the credit card they are trying to use at checkout. Making an AVS check mandatory will allow you to compare the billing address and postal code used in the transaction with the information on file with the credit card issuer. This is a widely used fraud prevention tactic that e-merchants rely on to verify the validity of their orders.
Get free e-commerce tips and resources delivered directly to your inbox.
Subscribe now
Try address autocomplete to avoid human data entry errors
Your customers are human, so they may make errors and typos when inputting their address details manually. They may also fail to fully complete their address information – like forgetting to include their suite number. Catching errors like this may require manual review of your orders. If errors and omissions like these go unnoticed, you may ship deliveries to the wrong destinations. To avoid this, and avoid flagging orders by mistake, use Canada Post's Address CompleteTM tool to auto-complete and validate addresses at checkout. It will also provide additional insights into your customers' addresses – like whether or not an address is a multi-unit location, a business, or a residential address – which can help you make optimal shipping decisions.
Ask for Card Verification Codes (CVV) at checkout
Conducting card security code checks will help you prevent fraudulent transactions. By verifying the three or four digit number on the back of a customer's credit card, you can confirm that the owner of the card is the one making the purchase with you.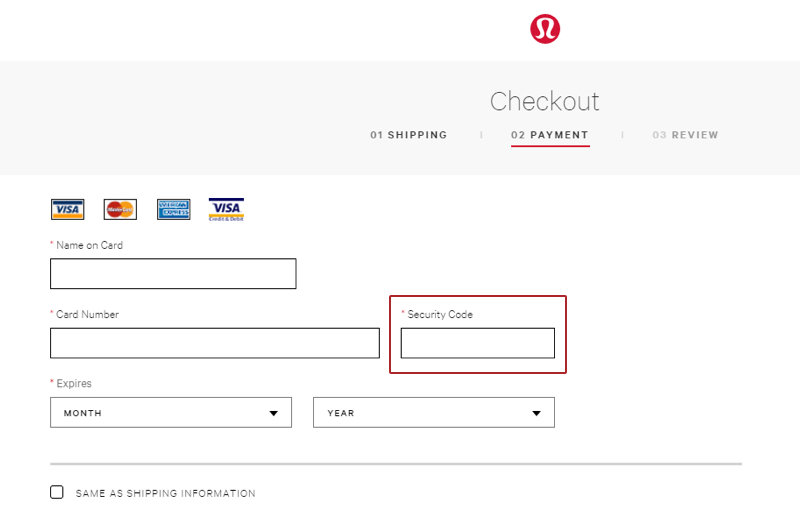 Lululemon asks their customers for a security code at checkout.
Use security applications for increased protection
There are many different types of software and technology tools and applications available to help e-merchants like you protect your business from risky transactions and fraud. These applications and tools can be used in the context of an e-commerce platform, a marketplace, and/or a storefront. They can help you automatically detect and cancel high-risk orders, authenticate customers, create custom filters and block and redirect visitors based on geolocation. Make sure to do your research to determine which solutions and practices will work best for your business.
Pay special attention to high-value orders
If an item has a high resale value, is in high demand, and/or is purchased in bulk, consider manually reviewing the order before shipping it out. This applies to things like gift cards, too. These types of items are attractive to fraudsters hoping to resell.
When in doubt, contact the customer
Due to lifestyle changes surrounding COVID-19, your customers may be purchasing high-ticket items from you that they may not have purchased in the past. This can result in false red flags because your system has detected unusual purchase behaviour. If a longtime customer dramatically changes their order patterns, be sure to contact them by phone or email. In most cases of fraud, the contact information submitted will be suspicious or inaccurate. If you reach someone using the contact information provided in the questionable transaction, have them confirm their identity and the details of their order.
Build trust by highlighting the security measures you have implemented for your customers
Your online shoppers care about how you're safeguarding their data. Be sure to highlight that your e-commerce website is secure and trustworthy. Share information about the security systems that you have put in place to protect consumer information on your website – especially on your checkout pages. Building trust is an excellent way to boost conversions for your business – especially with first-time shoppers who may have found you through search or paid media.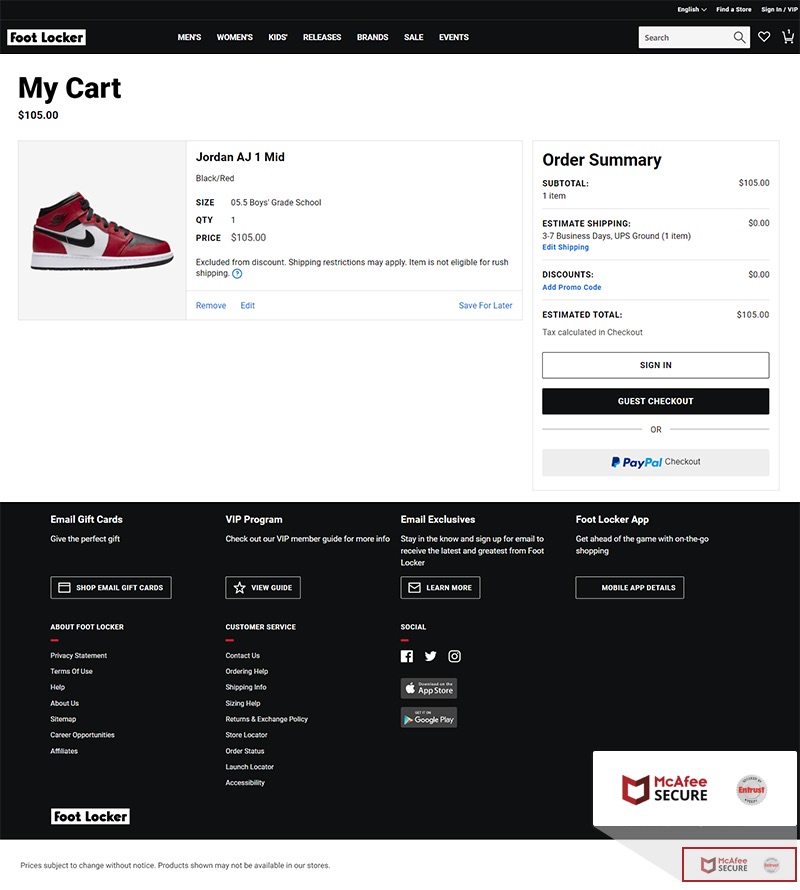 Footlocker prominently presents its security certification and privacy statement on its website.
Keep up with fraud trends
Do what you can to stay up to date on the latest techniques that are being used to facilitate fraud and cybercrime and adapt your security measures accordingly – especially during COVID-19. Stay in touch with your peers and your technology partners – they are your strongest allies when it comes to navigating this rapidly-changing environment.
Train your team
Your team should be involved in the process of ensuring security for your business and customers every day. Explain your fraud prevention plan, its benefits and how it complements your overall business strategy. Your team should be trained to identify real customers and detect fraud.
Prevent fraudulent purchases from being delivered
Even with robust security measures in place, there is still a chance that you may not detect a fradulent order until after it's left your store or distribution centre. Canada Post's Package Redirection tool enables you to redirect products purchased through fraudulent credit cards while the item is in the Canada Post network – before it gets into the wrong hands. This tool is a great one to add to your arsenal as it will help you avoid chargeback fees.
Choose the right partners to ensure safe parcel delivery
Security is top of mind for Canada Post. We work closely with retailers to protect their parcels and business. For your security we offer robust and exclusive delivery to parcel lockers and lobby boxes, community mailboxes and Post Office boxes. Now is the time to ensure that you can lean on your delivery partners, like Canada Post, to safely deliver your products to your customers from coast to coast.
Think like an e-commerce leader
Book a consultation to learn how your business can leverage our e-commerce expertise.
Talk to an expert