First, let's just acknowledge that most e-commerce merchants hate dealing with returns – and customers dread the process, too. But returns are unavoidable when selling online (the Wall Street Journal reports that as much as a third of all online sales are returned). The good news is that, done right, returns can be a loyalty goldmine for online retailers, building profitable, high-value customers.
Why loyalty matters
Loyal customers are more profitable. Improving customer retention rates by just 5 per cent can increase profits up to 95 per cent, according to an influential study in the Harvard Business Review. These customers spend more per order – and you spend less on acquisition marketing. Research by RJ Metrics revealed that repeat shoppers make up only 8 per cent of a site's visitors, but over 40 per cent of its total online sales.
These customers will give you 5 star reviews and tell their social networks how much they like what you sell and how they're treated during and after the sale. When Canada Post looked at online shoppers sensitivity to shipping costs, we found1 that products that customers have affinity (or loyalty) to, offer a 2 to 4 per cent lift in conversion – more proof that loyal customers are good for the bottom line.
Do free returns build loyal customers?
The short answer is "Yes." When customers shop online, especially if it's their first time at a particular site, they feel nervous. What if it doesn't fit? What if it's the wrong colour? What if doesn't work properly?
Then they're stuck packing it up and having to find a way to get their purchase back to the seller. That's already hard work – being asked to pay a return shipping fee on top of all that just doesn't sit right with most shoppers.
Amanda B. Bower, a professor at Washington and Lee University and Professor James G. Maxham, III, of the University of Virginia reviewed the results of two field studies over four years (using both survey and actual customer spending records). The findings? When the merchants in the study asked customers to pay for their own returns, customers reduced spending with merchants by 75 per cent to 100 per cent over two years. On the other hand, customers who were offered free returns increased their spending by 158 per cent to 457 per cent.
57 per cent of online shoppers2 say that the availability of free returns for purchases has a big impact on their decision of where to shop online.
A recent Canada Post study3 revealed that 28 per cent of merchants offered a free returns by mail policy in 2015, up from 21% in the previous year. This increase suggests that merchants are recognizing shopper demand for free returns and the impact it can have on their customer relationships and spending.
The 3 pillars of a customer-pleasing return policy
The KISS principle: Keep it simple, seller
Your return policy should be short – and in plain language. Clearly.ca sells glasses (a purchase which buyers want to get exactly right) with this easy-to-understand return policy; "We want you to completely love your purchase, which is why we offer free 365 day returns on all glasses and sunglasses orders. Contact us for a free return postage label."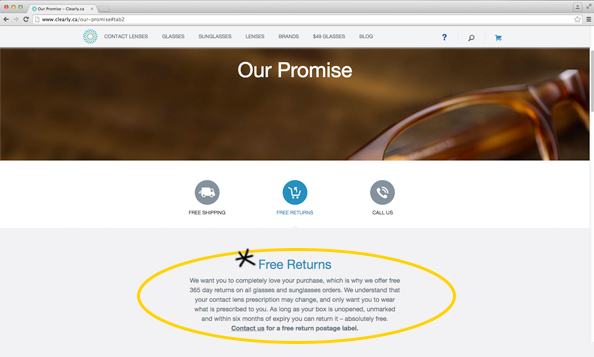 Highlight your return policy upfront – on every page
Don't make your customers hunt for your return policy (they might head over to a competitors' site and never come back). Return policies have more impact on your customers than you might think – 19 per cent of Canadian online shoppers4 compare return policies across brands before they make a purchase.
Zelen Shoes, a Canadian online retailer that specializes in lifestyle brands like Vans and Converse, puts this message top and left on its home page; "Free Shipping & Exchanges. We will pay for all shipping costs for purchases and exchanges." This upfront returns strategy is a great way to remove any potential barriers to making a sale.
Make it convenient
Have you ever decided not to go to restaurant or shopping district because "parking is a nightmare"? The inconvenience of finding a parking spot took your shopping dollars to a different location. Online shoppers value convenience – and the smart merchant caters to that desire.
Give your customers easy options to return their purchases:
Include return labels directly in the parcel, so that your customers can return items with minimum hassle (Canada Post's free desktop shipping software can handle this for you).
Use a tool like "My Returns" to allow customers to print return labels at home, using the Canada Post website, or at one of 6,200+ postal outlets.
If your e-commerce platform is integrated with Canada Post's returns web service, your customers can print their return labels from your site, giving you an opportunity to make another sale while they're on it. (See if your e-commerce platform is integrated with our returns web service here.)
If you have brick-and-mortar outlets, let customers know that they can choose to make returns at their most convenient physical store location.
See if My Returns is right for your business.
Sources:
1 Online Shopper Sensitivity to Shipping Costs, CPC 15-214, September 2015
2 Building eShopper Loyalty, CPC 15-213, August 2015
3 2015 Canada Post Holiday Monitoring Study
4 E-commerce Channel Report 2014, NPD Group, September 2014
Is My Returns right for your business?
Find out