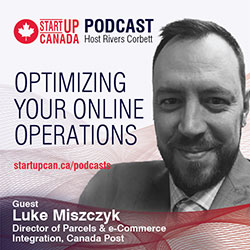 Canada Post's own Luke Miszczyk, Director of Parcels and E-commerce Integration, knows the challenges faced by those building e-commerce businesses. A skilled professional with over 20 years of experience in e-commerce and information technology, listen in to the Startup Canada Podcast to hear Luke and Rivers Corbett discuss how e-commerce businesses like yours can enjoy technology-based solutions to common e-commerce challenges.
---
Listen to the podcast:
Interested in advice tailored for your business?
Access e-commerce insight from experts at Canada Post.
Book a consultation