The past few years have made Canadians look inward, with 65% of consumers claiming that they're examining their values and prioritizing what's most important to them in life1. Sustainability is rising to the forefront as a major priority for Canadians – and businesses are responding by driving change in the way that they operate.
Consumer priorities relating to sustainability include focusing on reducing their carbon footprint, concern around excessive packaging, interest in ethical sourcing and improving sustainable shipping practices and being mindful of businesses' corporate values. Our research indicates that consumers are increasingly concerned about 1 or more of these sustainable practices – which means your business should be too.
Here are 3 sustainability considerations shoppers are watching closely:
Talk about your sustainable practices
Canadians are focusing on doing more for their communities and the environment – and are looking for businesses to do the same.1
For your business to succeed it's important that you highlight what your brand is doing to make an impact. Since consumers have expressed doubt that a brand's intensions in promoting their sustainability efforts are genuine, it's imperative that your brand's values truly align with the sustainable practices you're investing in. Be transparent about where your business is today and where you'd like to go. Take your customers along the sustainability journey with you and celebrate the wins together.
Focus on tangible sustainability practices
Canadians are focused on sustainable business practices that are tangible – so you brand should be, too. The use of sustainable packaging and packaging recyclability are key areas of concern. Consider optimizing your packaging strategy to make it as sustainable as possible. Choose packaging that is recyclable and ship items from the same order together whenever possible.
Though Canadians indicate that price is the biggest barrier to fully embracing sustainability – many indicate that they'd be willing to pay more if products are:1
Unpack best practices on packaging. Read our packaging guide.
Download now
Offer sustainable options
Consumers are increasingly motivated to reduce their environmental footprint. Some customers may be willing to pay more to ensure sustainable packaging is used, while some would prefer to wait a bit longer to receive their product if it means using less packaging. The more sustainable options that businesses can provide through their end-to-end ecommerce experience, the more likely consumers will be to purchase. Provide your customers with options so that they feel empowered to do their part.2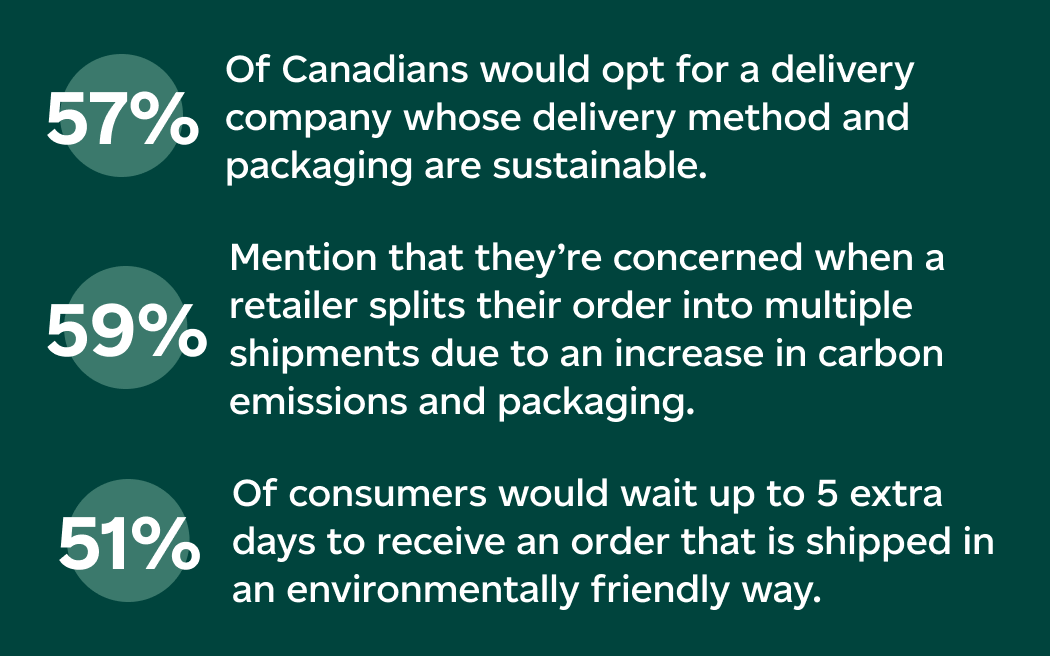 Sources:
1Phase 5. Canadian Online Shopper Study, May 2022.
2The Strategic Counsel. Fall Omnibus Report, November 2022.
Want to take your ecommerce business to new heights?
Whether you're just beginning your climb or looking to scale new peaks with your business, our Canada Post ecommerce experts can help.
Let's chat