With 80% of Canadians now shopping online, it's vital that e-commerce retailers understand the factors that influence their customers' buying patterns. To produce really great results, however, it's even more important to focus on the right segments within your target audience.
New, market-leading research from Canada Post reveals key trends in online shopper buying behaviour and highlights which types of shoppers present the biggest opportunity for future e-commerce market growth.
Where to shine the spotlight: Hyper shoppers
Already making at least 25 online purchases a year, hyper shoppers are the most lucrative shopper segment in play today. This group represents the driving force behind Canadian e-commerce.
As a retailer, you need to better understand their activity and expectations to drive increased spend and loyalty.
Here's what Canada's hyper shoppers look like and why you need them.
Affluent, educated, and diverse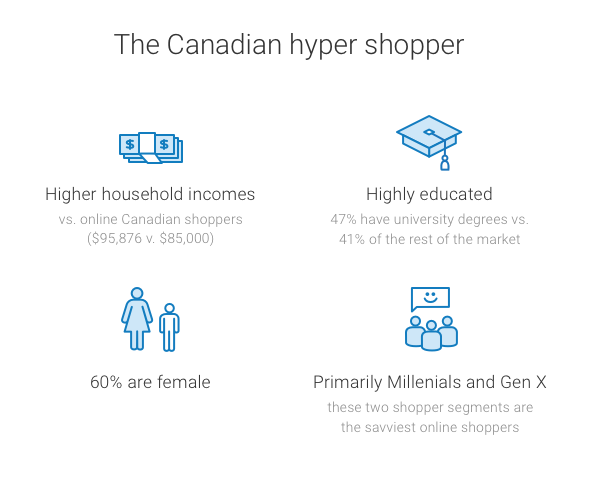 Shopping online rather than in-store
The shift from in-store shopping continues as more Canadians move more of their total spend from traditional retail to the online channel. What separates hyper shoppers, however, is that they're buying more frequently and spending more – across an expanding range of categories and merchants.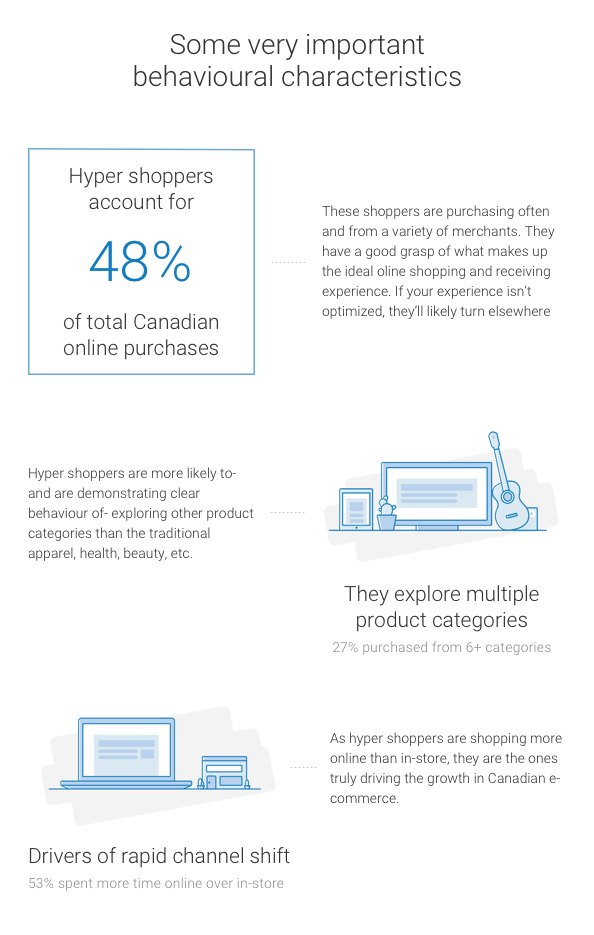 The value of a great customer experience
Customer experience is always a differentiator, and hyper shoppers favour retailers based on their ability to execute.
With top merchants continually improving inventory management, fulfillment and delivery processes, hyper shoppers' expectations have never been higher.
Building an end-to-end e-commerce experience geared to this most valuable customer segment will enable you to grow your business faster, while still offering a solution that's relevant to all online shoppers.
Better still, for sustained e-commerce growth, you'll need to guide those other shopper segments into adopting hyper shoppers' impactful behaviours.
Delight Canadian hyper shoppers
Discover our e-commerce solutions that help drive business efficiency and satisfied customers.
Contact an expert