Today's shoppers are accustomed to instant gratification when they shop online: they want their purchases to reach them fast and at minimal cost.
This puts a lot of pressure on e-commerce merchants to come up with a shipping pricing strategy that will drive shopper conversion but also not break the bank.
Knowing the correct amount to charge shoppers for shipping is crucial to your business's success. Understanding how your shoppers react to shipping fees, and the expectations that drive that behaviour, is vital to arriving at a sound shipping pricing policy.
Their expectations are already high – 64% of shoppers admit to abandoning their shopping journey over shipping fees in the past – so it's important to get things right from the outset.
There are essentially three ways to deal with your shipping costs:
Take the cost out of your profit margin
Increase the price of the product to offset the cost
Pass the cost on to your customer
Whichever combination you choose, you want to be sure the shipping pricing options you offer your customers provide value and act as a positive extension of your brand.
Canada Post recently analyzed online shopper sensitivity to shipping fees. Download our new whitepaper to help measure the effectiveness of your shipping pricing strategy.
Here are four proven pricing strategies, each of which can work in a variety of e-commerce settings:
1. There's really no such thing as free shipping.
At a glance, free shipping with no restrictions may seem like the simplest strategy and it's certainly grown in popularity. What's not to like? It's easy to explain to customers, it clearly meets their expectations and it has a proven impact on conversion rates at checkout.
If you decide to offer free shipping though, it's vitally important to gauge the impact of this decision on your balance sheet. Even if you end up making more sales, losing money on each one will eat away at your bottom line.
Consider implementing a free shipping with no restrictions strategy as a marketing tool to draw eyes to your site during key selling periods (i.e. Back to School or the Holiday Season) instead of year-round. Be aware, however that this a marketing investment and not an immediate money-maker.
2. Establish a minimum purchase threshold.
There's no denying that free shipping can catch your shopper's eye, but it's clearly expensive. Why not strike a balance instead?
One option is to offer free shipping for orders over a certain dollar amount. You're aiming for that sweet spot where customers are willing to spend a bit more to reach the free shipping threshold, without setting the bar so high that they abandon their purchase altogether.
Establishing a threshold is a smart way to encourage a higher average order value while simultaneously encouraging repeat sales. It can be a powerful motivator for shoppers: 70% of shoppers say they'd shop more often with a merchant if they were offered free shipping with a minimum purchase.
Fruits & Passion, a Montreal-based online supplier of body care products, utilizes this approach – offering free shipping in Canada on all orders over $45, and prominently displaying this offer on its homepage.
Tip:
Many merchants start exploring this strategy by setting their minimum purchase threshold at or around their average basket size. When considering this approach, take a look at your margins to ensure the cost of shipping is offset.
3. Perhaps one size does fit all.
Another effective way of avoiding some of the challenges of free shipping is to go the flat-rate route where you charge a flat fee across all product lines and destinations. This policy is commonly adopted by fashion merchants.
Adopting a flat-rate approach requires a bit of preparation as you need to figure out your average cost of shipping the various packages you're offering and the areas of the country that you service (local v. national). This may sound like a lot of work, but it's a must if you want to remain profitable.
Fashion retailer RW&CO. employs such a flat-rate shipping approach. It maintains a simple $7.50 charge for all Canadian orders under $120.
Tip:
Is your product line fairly similar? Flat-rate shipping can be a challenge if you sell a wide variety of products with different sizes and weights.
4. Why not simply pass the fees along?
If free or flat rate shipping isn't feasible, using real-time shipping estimates may be the way to go.
By connecting your checkout to your shipping provider, your customers will be presented with a real-time shipping quote based on the total order cost, number of products, size and weight of all items in their cart and destination.
This means they'll effectively be charged the same price that you'll incur when you ship their order. Customers can weigh the value of the items they want against what it will cost to get them to their door. In turn, you avoid subsidizing their choices.
Tip. To help retailers offer the shipping experience their customers want, Canada Post works with today's top e-commerce solutions, integrating our web services and shipping rate calculators directly into their platforms.
5. Stay ahead of customer expectations.
Reviewing and making regular adjustments to your e-commerce shipping pricing strategy can help improve your conversion rate, increase your average order value, and boost sales of more profitable products – but only if you and your customers are in sync.
Want to take your business to the next level? Canada Post has a range of tools and solutions to help merchants like you master your shipping strategy – and more.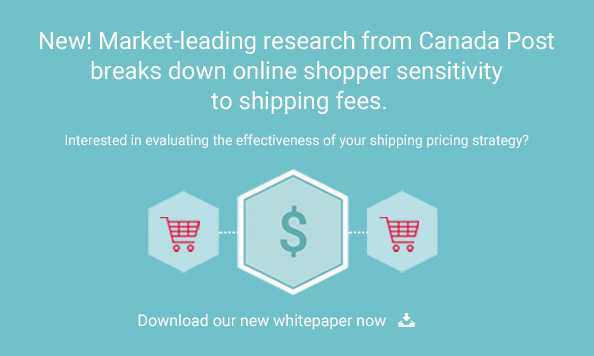 Source: Online Shopper Sensitivity to Shipping Costs, CPC 15-214, September 2015.