Do Monique Lisek a favour: Take 30 seconds and throw the cookies in the microwave. Trust her – it's all part of the experience.
"I want every customer to have an amazing experience, from start to finish," she explained. "A gooey, warm, melty cookie is part of that epic experience they see on Instagram or in the videos we take. It is super important that they can achieve that at home." Lisek, along with Konstantyn Kopystynski, are co-founders of YVR Cookie, a Vancouver-based gourmet cookie e-tailer. Without a storefront to tempt potential customers with smells and samples, the company has instead baked up a unique customer experience that creates a tasty connection with customers delivered to their door.
Fresh from the oven
A former university athlete and fitness competitor, Lisek understands the value of a "cheat day" – that one day of the week where clean eating can be sidelined in favour of some tastier treats. Unable to find the cookies she saw competitors snacking on in the U.S. – "they were huge, stuffed and topped with all these crazy good things" – she decided to make her own.
A baker since youth, Lisek first created a salted caramel pretzel cookie – "thick and packed with goodies" – for family and friends. Other recipes soon followed. To showcase her creations, she launched an Instagram account called YVR Cookie – YVR being the International Air Transport Association code for Vancouver.
Soon, her creations were getting more attention from co-workers, competitors and complete strangers. In August 2019, Lisek and Kopystynski, who originally met at the gym, went from selling cookies out of the back of their car at fitness shows to creating an online store and committing themselves full-time to their business. They had just moved into a shared kitchen facility and hired their first employee when the pandemic hit and comfort food like cookies took off in popularity. When the world shut down, that's when YVR Cookie made its big push. By September 2020, the team had moved into its own bakery, upgraded equipment and grew the team to 20 employees.
Today, YVR Cookie continues to grow its operations and distribution thanks, in part, to a focus on customer experience.
For more inspiring stories like this one, explore our digital magazine – Ecommerce Insider.
Explore magazine
Baking in an exceptional customer experience with Shopify
Your gourmet cookie business doesn't crumble without a storefront. "It is about creating an experience not replacing one," explained Kopystynski, YVR Cookie CEO. "That is the intentionality behind it. We recognize there is a trade-off. But for us, customer experience is about creating an excitement, a feeling. It doesn't require a physical store."
For customers, that experience starts online. On the company website, original photography shot by Lisek showcases the "gooey and epic" natureof the cookie experience, as well as immediately  connects potential customers with the YVR Cookie community through reviews.
On the back end, Kopystynski specifically cited Shopify as helping grow their business. "The base platform is simple, but what really stands out is their app/developer marketplace to make customizations within their infrastructure," he said. "We are able to customize a lot from a user experience perspective and for order management and reporting. As a result of having a streamlined order management and reporting system, we are able to scale our operation efficiently."
---
You might also like:
---
Shopify also integrates many tools into its software, such as Drip (email marketing software) and Grin (creator community manager). The brand also uses Canva online graphic design software to create its aesthetic without being design experts. But YVR Cookie's social media is where the brand not only takes on its personality but follows customers home with their orders.
"Instagram makes it easy for us to be a part of people's experience while they're actually receiving and eating the cookies," said Lisek, YVR Cookie Creative Director. "We can be right there – I can message someone live as they're trying the cookie, hyping them up, getting excited with them, asking what their favourite thing about the cookie was. That has been at the core of our customer service ever since – being engaged with the whole experience."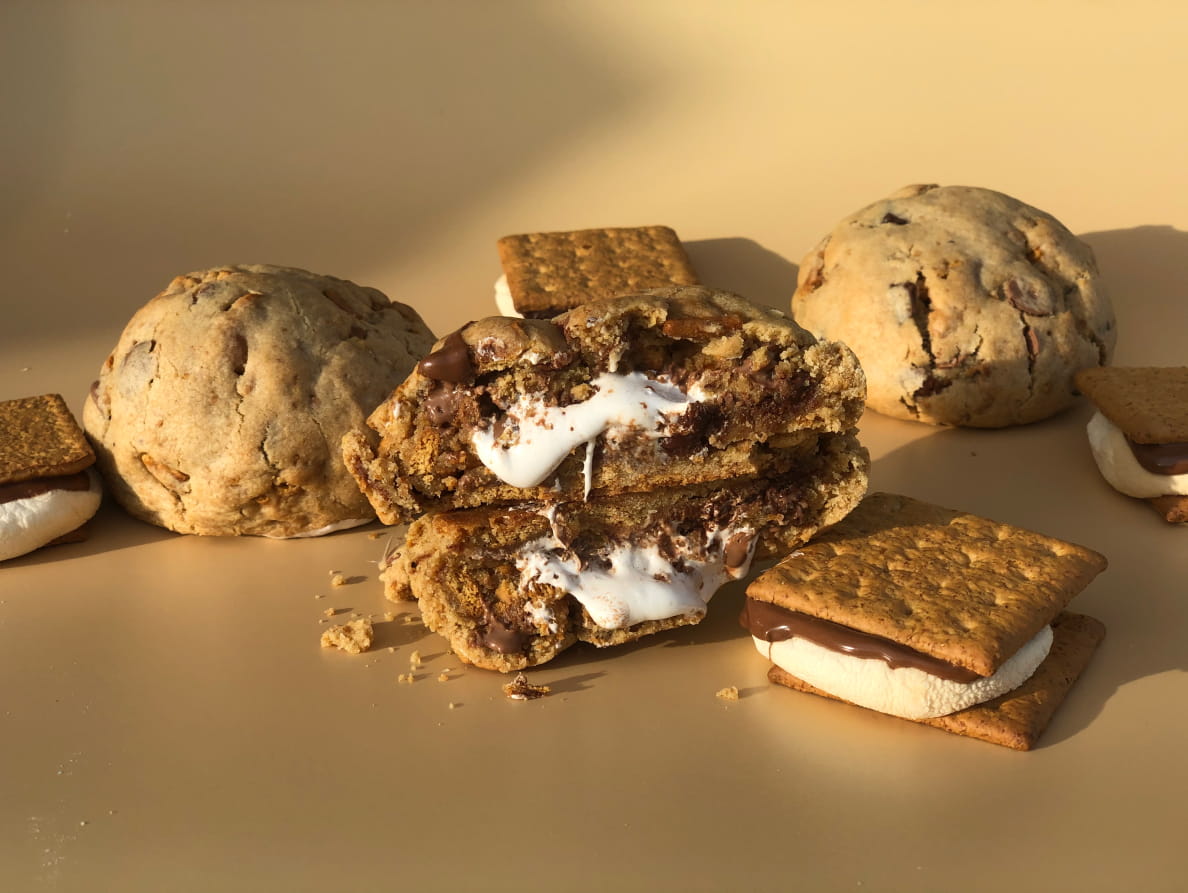 Getting boxed in is a good thing
The company's shipping philosophy starts well before the boxes come out – they are thinking about shipping while in the kitchen creating. Lisek and Kopystynski will tell you that there is a balance between a great-looking cookie and one that ships well.
"The cookies themselves are pretty durable, but one of the most important things to take into consideration is if the toppings are going to ship well. That's the challenge," Kopystynski said. "It's a big challenge. If we had a physical location, we could go crazy with the toppings – but we learned the hard way that crazy toppings don't usually survive the shipping process." That's why packing and shipping are almost as important to YVR Cookie as the treats themselves. "The unboxing experience had to be great from the start," Lisek said. "We wanted it to look nice, for customers to want to take photos and videos with it. Normally, you buy a box of cookies, peel back the aluminum and have some cookies there. I wanted to be different, immaculate every single time, fun and Instagrammable. I wanted people to take videos of unboxing. I wanted them to want to share." The high-end experience is packed with surprises throughout. They love to use the word "crispy" to describe it – and that is a perfect word for it. Customers open the box to crisp tissue paper folded like a military cot and sealed with a cute sticker. Below that, they find a welcome note (with reheating instructions) atop crinkly packing material.
Another layer down they find individually cello-wrapped and labelled cookies sitting on top of biodegradable packing peanuts. It is all so tight and neat. It is a, well, "crispy" experience.
Achieving this experience did not happen overnight. In fact, it involved a tremendous amount of trial and error – and people.
"We have an incredible group of people who care so much," Kopystynski said. "They'll look on our Instagram stories featuring customers and notice a well-put-on sticker and crispy tissue. They take a huge amount of pride in seeing that and will compliment each other for doing a great job."
A tasty success story with a bright future
For YVR Cookie, the future is already in progress as many of the company's long-range initiatives launched in early 2022. The company will continue its focus on next-day delivery within its local shipping radius and two-day shipping to Ontario. The efforts also include further growth in Eastern Canada plus an expansion into the United States.
"The things that happened in the pandemic put us in a position now where we can focus on the bigger stuff – moving into more markets, making things more accessible, streamlining operations," Kopystynski said. But no matter how big it gets, both co-founders stressed, customer experience will be baked into the operation.
Want to take your ecommerce business to new heights?
Talk to an ecommerce expert from Canada Post.
Reach out