Adam Rondeau recalls the excitement of when he and his partners first opened the doors of Daft Brewing.
After months of working 14 hours a day to convert the bare car garage into their dream taproom, he and his partners finally welcomed customers across the threshold. He recalls getting their first Google review and seeing the Daft Brewing sign lit up on the main Kingston, Ontario strip. "I wasn't in love with starting a business," Rondeau says, "I was in love with starting this business."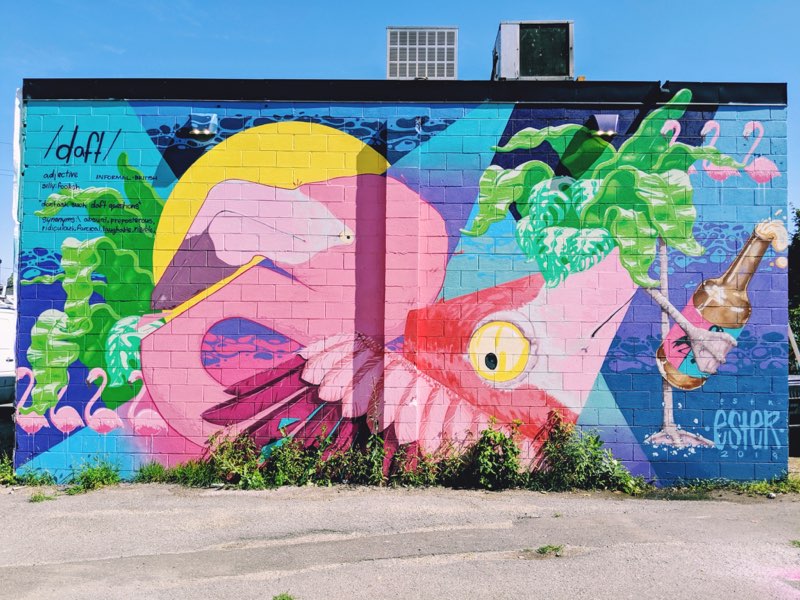 A colourful mural outside Daft Brewing's West-coast style taproom and brewery.
The COVID-19 curveball
The partners had a robust business plan and a clear vision of how they would grow the company, taking it from startup to success story. They would pique customers' interest with their West-coast style taproom that was unlike anywhere else in town. They would focus on the community, drawing locals to the unique space and pouring pints for them to enjoy. Then, six weeks later, COVID-19 hit.
"COVID-19 flipped our business model upside down and we had to dramatically shift our plans."
Pivoting to stay in business
The company immediately had to shift from pints poured from kegs to bottles – while finding ways to support both its community and staff.
"We collected tips from bottle sales on behalf of our staff who we could no longer give hours to and were able to provide around $300-400 per staff member to help during that time. But the big thing we did was to start producing hand sanitizer for the public."
The partners read about a few distilleries that started producing hand sanitizer and immediately knew it was something they had to do.
Reaching out to their community for support
They used Instagram to ask the community for bulk sugar donations, which was needed in the ethanol production process to create the sanitizer.
"The response from the community was overwhelmingly positive," Rondeau says, adding that people donated sugar, money, time, containers, cabinets, raw materials, packaging equipment and more. At least 20 different community groups and individuals supported their efforts, which resulted in the production of more than 2,000 litres of hand sanitizer.
Giving back to their community
They in turn donated their hand sanitizer to hospitals, community groups, long term care homes, local businesses, as well as a meal delivery service for vulnerable people that was able to resume service once it received the donations.
Beyond producing hand sanitizer, the company also turned its taproom into a space that could be shared and leveraged by other businesses.
Working together with small businesses
Working to help lift other small businesses up is something that Daft Brewing has in its DNA. For instance, they regularly host a pizza pop up with a local pizza business and have acted as a pickup location for a small local online market. The company has worked with local artists to produce three massive wall murals and has collaborated with businesses for craft nights and more pop-up shops.
Overall, they've collaborated with local gyms, yoga studios, restaurants, art collectives, museums, axe-throwing organizations and the city itself in order to create fun events that both partners can benefit from.
"Basically, if there is a relationship we can build with a local company that will provide a mutual benefit, we'll go out of our way to make that happen," says Rondeau. "It is the people within our community who support us and allow us to keep our business going, so we want to give back and recognize the community as best as we can."
Preparing for the future
Right now, Daft Brewing's success will be defined by its ability to get through the winter and navigate a course that will largely be set by COVID-19. Rondeau says they're shifting to a delivery-based model and will be operating curbside pickup. They're also thinking about offering a drive-through.
"We'll just try to do whatever we can to get our product into people's hands during the winter months, while slowly trying to expand our brand awareness to people in Toronto and Ottawa," he says.
For Daft Brewing, like other businesses, staying as nimble as possible will be key.
"I think the businesses able to navigate through the closures are those that are able to pivot in a way that will allow them to keep paying the bills," says Rondeau. "As we're all learning, you never know what the future's going to bring."
We're here to help you thrive.
Explore resources, success stories, insights and advice designed to help you grow and build a strong small business.
Learn more