So, Well done. You've done it. You've finally got a polished e-commerce store complete with, carefully curated content and a wide variety of in-demand products on offer. Before you put your feet up and relax, remember, ut failing to pay attention to how those goods get to your customers can put all that hard work in jeopardy.
Consumers' expectations of what the e-commerce experience should feel like are constantly rising. Consider this: According to one study, four out of five customers think retailers should ship their online orders in 24 hours or less – quite a high bar to clear.
That's why, since packaging and shipping are the most tangible elements in the online shopping journey, it's crucial that you ensure your online store is actually "delivering the goods".
Door-to-door service. Shipping and fulfillment isn't just about getting stuff out the door efficiently, however. It's an important aspect of your company's branding.
Roughly two-thirds of online shoppers believe the packaging of their shipment shows how much the retailer cares about them and their order. As well, shoppers regularly rank high shipping costs as their most disliked aspect of making purchases online.
Even e-commerce vets make mistakes when rolling out their shipping strategy. Here are a few common mistakes and ideas to help you avoid them.
For more small business success stories download the latest issue of Delivering the Online World.
Get your copy now
Mistake No. 1: Oversized packaging
Packaging matters a lot when it comes to e-commerce. A recent Google survey shows that one in every five consumers has actually watched an "unboxing" video – and 62% of those people watched it because they were researching that product.
That's why winning brands meld design and content protection when choosing how to package their goods. One box does not fit all, though.
Larger packaging might afford more protection, but it costs more to ship, more to purchase, and can frustrate customers who have limited space to work with.
Size always matters. Since shipping prices are based on both weight and size, use materials that are just a small amount larger than what's being shipped.
Using unnecessarily heavy or large packages – even if they're off by just 1 cm – can greatly increase costs. For example, a box that is 27 cm on all sides vs. 29 cm can yield an 8% savings.
Use lightweight materials, and keep on top of advancements in packaging. For smaller items, mailers can be a great alternative to boxes, especially for retailers shipping light-weight, hard-to-break items.
What to do about it. When you invest in packaging solutions that are specially designed to deliver maximum performance with minimal size, each unit will cost less to ship. More importantly, you'll also be reducing the cost of materials over time.
Mistake No. 2: Overpaying for shipping
Free shipping is a popular, unambiguous offer that clearly improves conversion rates at checkout. But, to be successful, you still have to ensure you're making enough on each order to cover the associated shipping costs.
If you want to offer the best deal on shipping, while still offsetting your costs, regularly getting current rates from various carriers may be the best way to go.
Search out those discounts. Meet with company representatives to look for ways that your needs align with a carrier's habits, increasing your chances to get exclusive discounts.
Canada Post Solutions for Small Business™, for example, provides major savings for small-to-medium retailers on parcels shipped domestically, and even larger discounts on parcels shipped outside Canada. This way, you can ensure that you're offering the cheapest possible shipping option by offering your customer exactly what you'll be charged by your preferred carrier.
What to do about it. Make sure shipping rates are clearly explained, ideally with various staggered – free, economy, expedited, overnight – thresholds for customers to choose from, allowing them to decide whether cost or speed is more important.
Mistake No. 3: Inaccurate addressing
Poor data is a big problem. Mistyped addresses at checkout can jeopardize delivery and the actual sale – to say nothing of the costs when the item makes its way back to you.
That's where the expenses really start to add up, of course. Failing to process the order correctly the first time means customer service time to look up the order information, supervisor time to approve the new re-shipment/return, warehouse labour to restock or pack the order, plus the additional packaging and shipping charges.
The cost of one bad keystroke. That's why you need an address verification system. AVS programs check and correct your customer information so that deliveries get to the right destination the first time.
E-commerce stores can use this verification process to reduce the number of checkout errors, increasing conversion rates in the process. One way of doing this is by using address verification to auto-complete forms as soon as enough identifying information has been provided.
What to do about it. Be proactive. Canada Post's AddressComplete™ service virtually eliminates incorrect or incomplete customer address information.
Mistake No. 4: Labelling problems
Technology makes it easy for you to print shipping labels right from your computer, and have packages picked up to save you from those daily trips to the post office.
But if a barcode on a parcel can't be scanned, it can't be automatically processed – which can mean fees and void service delivery guarantees. Improperly placed labels can also affect tracking.
Check that label twice. That's why it's important to brush up on labelling requirements, and to also talk to your shipping provider who can advise you on any labelling errors that should be addressed.
For instance, when doing your own fulfillment, ensure that the label:
is affixed flat to the largest side of the item to ensure the barcode can be easily scanned

isn't covered with packing tape or folded over an edge of the parcel

can be inserted (along with any other shipping documentation) into a plastic pouch for protection

bears a good quality barcode that can be read by postal equipment
What to do about it. Consider automating your shipping label process. Canada Post's Electronic Shipping Tools (EST), for instance, prepare shipping labels and manifests online.
Mistake No. 5: Inefficient operations
Customers want things fast: Amazon is setting the bar for speedy delivery and online merchants of all sizes need to catch up. But why do that in a jalopy when you can drive a well-oiled e-commerce machine?
Shorten delivery windows. Perhaps it's time to fine tune your operations? The introduction of third party logistics (3PL) will allow you to streamline your delivery process without a pricy investment in infrastructure, transport equipment or fulfillment staff.
Fulfilling orders from stores or warehouses that are closest to each customer, for instance, allows you to use your entire inventory, no matter where it's located.
A 3PL provider will help you save considerably on shipping costs, improve delivery speed, and boost revenue.
What to do about it. Canada Post's Ship From Store service can help you turn your retail locations into mini-distribution centres, so you can save time and money by shipping from stores nearest your shoppers.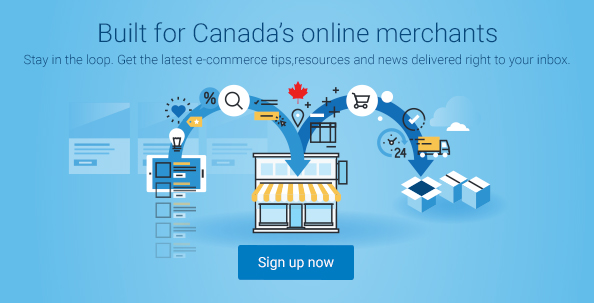 Master shipping
Sign up now to receive physical copies of future Delivering the Online World magazines.
Subscribe