This is the third blog of our six-part series on how to efficiently operate your e-commerce business with in-house expert Suveen Suri. In our E-commerce Innovation Lab, she'll walk you through how to create a shipping label using leading e-commerce platforms and third party shipping solutions; accurately weigh and measure your parcel; and place your shipping label on a package for delivery.
Shipping starts when you generate a shipping label and ends when you get the package into the hands of your shipping partner. Ensuring a package makes its journey smoothly and quickly is a matter of finding the right tools and equipment. You'll need to think about your unique requirements to pick the best one for your business.
Canada Post has a full suite of tools, solutions and e-commerce partnerships that make creating Canada Post shipping labels easy on any e-commerce platform.  Our resources feature additional functionality that can improve customer experience and make management easy.
Start with software solutions for your business
Whether you're shipping 10 or 1000 labels, there is a Canada Post solution for you.
Our Electronic Shipping Tool (EST), for example, is one option that allows you to print labels with ease. It's geared towards mid-sized retailers.
Third party shipping tools – like ShipStation, OrderCup, 2Ship, and ShipRobot – integrate with branded websites like BigCommerce, Shopify, and WooCommerce, and integrate with marketplaces like eBay, Amazon and more. Canada Post has worked with all these partners to develop integrations that make shipping with Canada Post a breeze.
Technical questions?
Our team of e-commerce integration experts is a great resource to help you with technical application program interface (API) questions.
Chat with an expert
Get the hardware you need to scale
Thermal printers
If you're interested in growth, you need solutions that scale. One of the most powerful and accessible solutions is a thermal printer. Here's why:
Thermal printers are formatted to print tags and barcodes on self-adhesive labels without ink. No refills can save you thousands when shipping at scale.
They are major time-savers that are capable of producing thousands of labels in no time.
They are extremely reliable and accurate. Labels are resistant to smudging and ink levels never get low.
With basic thermal printers costing as little as $200, the investment will pay for itself in ink alone.
A shipping scale
A proper scale is also a fantastic investment for scaling your shipping processes. Weigh accurately and you'll avoid surprise charges and delays from your delivery partner.
Accurate, easy-to-use measurement tools ensure consistent accuracy when inputting dimensions and weight. For international shipments especially, make sure your tools measure in the correct unit of measurement. Make sure you provide the appropriate measurements used by all the nations your shipment will pass through.
Be methodical!
Once you've input the correct measurements and have printed your shipping label, you'll want to ensure that it's placed accurately onto your package.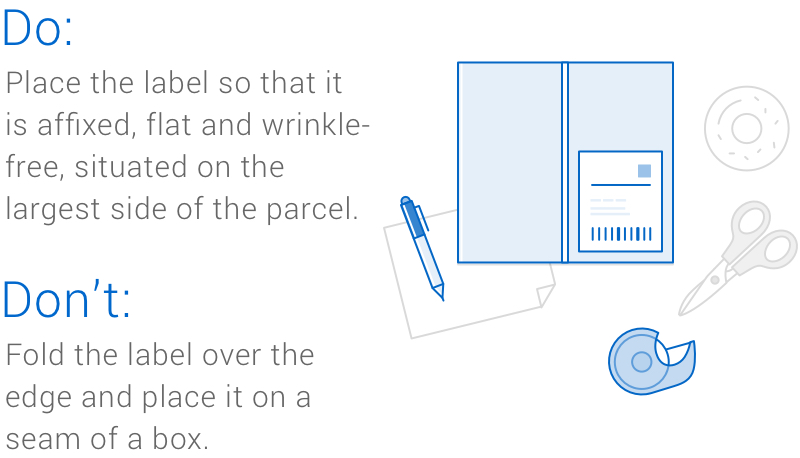 How to get your shipments to your delivery partner
Once labels are printed and packages are prepared, you've got to get them to your shipping partner.
Of course, you're always able to bring them directly to the post office yourself, but that method is difficult to scale.
Instead, consider taking advantage of either of these services designed for growing retailers:
On-demand pickup: This option allows you to request a pickup when needed via our online tool. It's great for retailers with fluctuating shipping volumes.
Scheduled pickup: When shipping volume is consistent, this option allows you to schedule weekly pickups via our online tool.
To check if pickup is available in your area, just enter your business' postal code.
Work closely with your delivery provider if your volumes are climbing rapidly. Let them know if you need a bigger truck for your next pickup. Your delivery partner will have all the information they need to efficiently get your package to your customer.
Learn how we can help.
Canada Post is your partner in optimizing your business operations.
Contact an expert
Suveen Suri is an Advisor for Ecommerce Solution integrations at Canada Post. She works with hundreds of Canadian merchants each year to help them operate more effectively by integrating the right e-commerce tools and solutions.Read more by Suveen Suri