As more e-retailers institute free shipping, either with a minimum purchase or no restrictions, they're shaping a new normal that more shoppers have come to expect.
So much so, that free shipping is fast becoming the table stake required to stay in the e-commerce game.
Canada Post recently spoke with more than 4,000 Canadian online shoppers to better understand how they respond to shipping fees.
Download the whitepaper: Is the price right? Designing and effective shipping pricing strategy
The result? Valuable insight that e-commerce merchants can use to design, or fine tune, their shipping pricing policy.
The key takeaways from the study: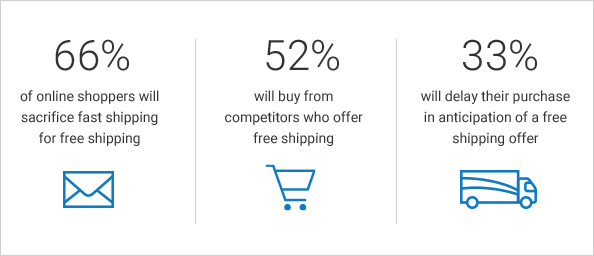 Responding to shoppers' expectations. Clearly, free shipping is moving from a nice-to-have to a need-to-play tactic as online shoppers become increasingly conditioned to its availability.
The number of e-commerce businesses offering free shipping is certainly on the rise – jumping from 42% in 2014 to 56% in 2015 among Canada Post's top 100 e-commerce merchant customers: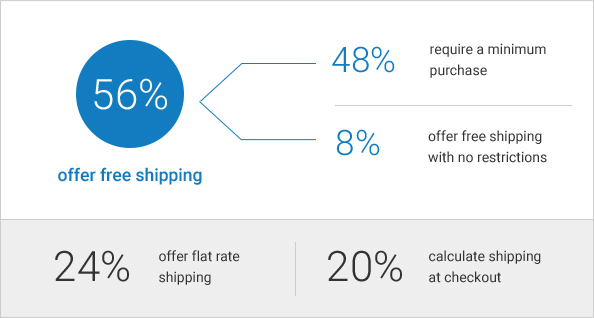 Embracing the new normal. For many e-commerce merchants, the question when establishing the right shipping pricing strategy for their business is not whether to offer free shipping but rather how to manage shipping costs efficiently to provide customers with what they want.
Expanding your options. While free shipping is still the most important feature in buyers' minds, it's not the only enticement available.
To further refine your shipping pricing strategy, consider offering your shoppers several choices of delivery speeds, such as same-day, priority or express delivery – especially during peak selling periods.
Buyers don't mind waiting a few days for deliveries if they pay less in the bargain – most are willing to wait up to 8 days when they get free shipping and 5 days when they pay for shipping.
Delivering convenience.
Brick and click retailers can also capitalize on their store locations to provide more options to free-seeking shoppers.
Implementing a pickup in-store option can enable impatient customers to have their orders within a matter of days.
When presented with this option, 25% of shoppers would choose it, provided it was free and the location convenient.
The increased traffic and potential incremental purchases from buyers walking in to collect their items in store make this a winning proposition for brick and mortar retailers.
Source: Online Shopper Sensitivity to Shipping Costs, CPC 15-214, September 2015.
Read our whitepaper: Is the price right? Designing and effective shipping pricing strategy
Download whitepaper