On May 8, 2020, Canada and its wartime allies will mark the 75th anniversary of Victory in Europe (V-E) Day.
May 8, 1945, marked the official end of fighting in Europe during the Second World War, after six years of war. While the war didn't end until Japan's surrender in September of 1945, V-E Day marked victory over the Nazi threat.
Canada Post is marking the anniversary and honouring every Canadian who served overseas or at home with two stamps. One features Private Léo Major – the "one-eyed ghost," who exemplified bravery on the battlefield. The other highlights Veronica Foster ("Ronnie, the Bren Gun Girl"), an icon of support on the home front.
Léo Major helped to liberate a Dutch town in a sudden, daring attack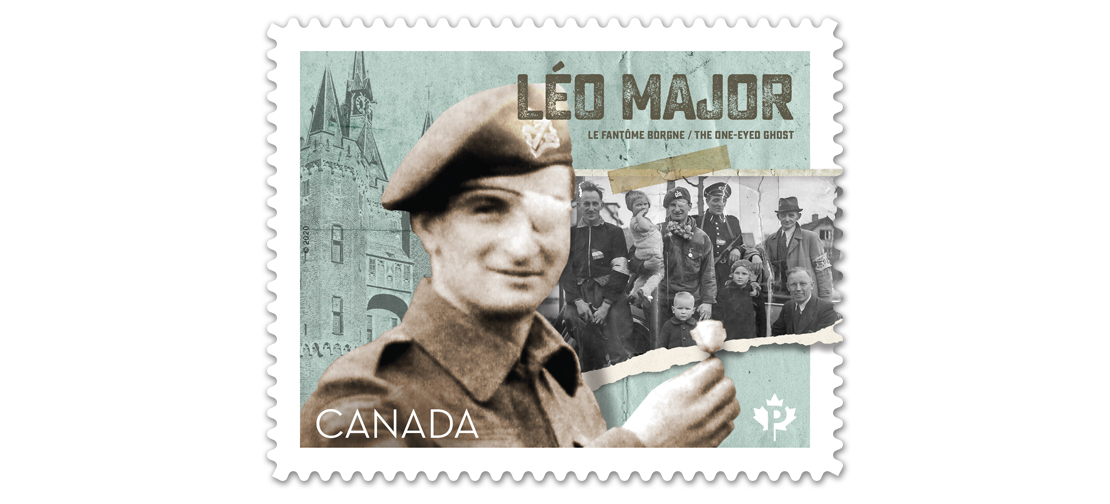 At 19, he enlisted in the Canadian Army and went overseas in 1941 as a proud member of the Régiment de la Chaudière. Partially blinded by a grenade during the D-Day landings in 1944, he refused to be sent home – arguing that a sniper needed only one eye to sight his rifle. His new nickname – "the one-eyed ghost" – suited him.
On April 13, 1945, Major and his friend Corporal Welly Arsenault volunteered for a night patrol of German-occupied Zwolle, near Amsterdam in the Netherlands. Arsenault was killed early in the mission. Major, enraged at the loss, took up his comrade's weapon and charged the town alone. To make the occupying German soldiers believe they were under full attack, Major fired his machine gun through the streets, tossed grenades, and set fire to the local Gestapo headquarters. With the help of local resistance fighters, he took dozens of German prisoners, while the rest fled. For his bravery in liberating Zwolle, Major received the Distinguished Conduct Medal.
A pipefitter in peacetime, he returned to the battlefield in 1950 as a volunteer in the Korean War. A member of the 2nd Battalion, Royal 22e Régiment, he received a second Distinguished Conduct Medal when his scout platoon recaptured a key position and repulsed four separate attacks.
Major died on October 12, 2008, in Candiac, Que., and was buried at the Last Post Fund National Field of Honour in Pointe-Claire. Zwolle named a street after him, made him an honorary citizen and holds an annual ceremony to remember his heroism.
Veronica Foster inspired Canadian women to work in support of the war effort
During the Second World War, with more than a million men enlisted, Canada needed women to take on traditionally male-dominated jobs to supply food, clothing, weapons and more to the military and to sustain the Canadian economy. But inspiring women to labour in hot, noisy factories and on muddy farms took some doing. Enter "Ronnie, the Bren Gun Girl."
Veronica Foster was just 19 in 1940, when she went to work at on a Toronto factory's production line, assembling Bren light machine guns. A year later, the attractive young woman caught the attention of the National Film Board of Canada. She soon became the face of a public relations campaign that encouraged women to toil in Canada's war industries. Photographs of Foster working in the factory and socializing after work appeared on posters and in major newspapers. The public fell in love with "Ronnie, the Bren Gun Girl." She inspired more than 1.6 million women across Canada to roll up their sleeves and join the workforce.
After the war, Foster pursued a career as a singer and a model, married trombonist George Guerrette, and had five children. Widowed at 41, she became a real estate agent to support her children, excelling in a field that was then still male-dominated. Foster passed away on May 4, 2000.
(Banner image credit: City of Toronto Archives, Fonds 1266, Item 96241)
Stamps mark 75th anniversary of Victory in Europe (V-E) Day
Available now