Many merchants have discovered that they can dramatically increase sales by listing their products on online marketplaces in addition to their own e-commerce stores. Just like selling a product in a supermarket instead of exclusively in a small store, this strategy exposes the products to more customers than the merchant could reach on their own.
If you want to grow your business through marketplaces like ebay or Amazon, remember, just listing products there isn't enough to drive sales. Merchants must optimize their listings on each platform, and fulfill their orders effectively once they receive them. Here are a few tips on how to make marketplaces work well for your business.
Read Part 1: Why E-commerce merchants should sell in online marketplaces
Optimize your marketplace listings
Every marketplace platform has slightly different guidelines for sellers, but there are a few tips that you can apply across all major marketplace platforms that will boost the performance of your listings.
1. Drive the right traffic, and lots of it. The more views you generate for your listings, the better your odds of making sales – as long as the viewers you attract are interested in what you are selling. Here are a few tips for driving the right traffic to your listings:
Share detailed product descriptions. Fill out as much information as possible in your product descriptions to ensure potential customers know exactly what they are purchasing from you. This will increase buyer confidence and the likelihood of making sales. It's also worth noting that marketplaces take listing completeness into consideration when ranking them.
Include high-quality pictures of your products. If you have a branded storefront, you probably already have attractive pictures of your products on hand that you can use for your marketplace listings. It's fine to repurpose them on a marketplace as long as they are good quality and comply with the marketplace's guidelines.
Tip
Change the language on your marketplace listings slightly from that on your own website listings. This lets search engines see that they are different listings.
Master your operations and satisfy customers. Download the ultimate e-commerce ebook for growing merchants.
Get the e-book
2. Keep your customers happy. Your success in an online marketplace will be primarily determined by the ranking of your listings. This ultimately comes down to longevity and customer satisfaction. If you do a good job of enabling an efficient end-to-end shopping experience, you will encourage positive reviews and ratings – which is virtual gold in a marketplace environment. Being ranked as a "top seller", and keeping your customers happy, will earn you glowing reviews and help you acquire new shoppers.
Tip
Customer satisfaction isn't just achieved through a positive shopping experience. There are cases where your product may be defective or your customer may have misaligned expectations. Resolving issues effectively will go a long way in keeping that customer happy as well as the marketplace. Remember, your brand is an extension of the marketplace's brand, so they need to ensure that online shoppers keep coming back to their platform.
Efficiency: The key to success in marketplaces
Optimizing your listings is important, but fulfillment matters too. You have to fulfill every order as efficiently and effectively as possible to make your success in the platform last over the long term. You need to ensure that your customers have consistently positive experiences through all your selling channels.
Great expectations
As more and more people shop online, customer expectations for the ideal online shopping experience rise. For example, 45% of today's online shoppers expect their orders to be fulfilled by merchants within 24 hours.
To meet and exceed your customers' rising expectations, review and tweak your current fulfillment practices to ensure that you process the orders you receive as efficiently as possible.
Marketplaces also expect merchants to be efficient in the experience they provide to their customers through the platform. Merchants must effectively communicate with shoppers and manage their expectations on how quickly they are able to fulfill an order.
Doubling-down on the efficiency of your operations will make your customers happy and your life easier. As a growing retailer, you probably try to save as much time and money in your operations as possible. Most opt to re-invest that money into the business to fuel growth. There are great order management tools available that can help you save money, avoid mistakes, and manage your orders more efficiently across platforms and marketplaces.
Order management and marketplaces
Receiving orders from different platforms is great for your business, but ensuring that you have visibility on those orders across multiple platforms can be a challenge. To make everything more efficient, there are shipping systems with order management capabilities that can consolidate all your orders across platforms into one easy-to-use interface. They can help you create efficiencies in sorting orders and printing labels, among others.
Order management efficiencies
Order management systems like ShipStation can help you fulfill your orders without error or oversight. Depending on which software you choose, you can:
Connect orders from various platforms. Selling in a variety of places usually means that you have to log on to each platform to manage orders separately. The order management software for each platform might be similar, but no two interfaces are built in quite the same way. Your staff will have to brush up on each to manage your orders – which is time consuming and tedious. By using one master order management system you can add multiple websites or marketplaces into an OMS to easily manage your orders in one place.
Print shipping labels with Canada Post. Through ShipStation, you can view the Canada Post services available to your business, preview shipping rates and even print your shipping labels – either one at a time or in batches.
Automate and customize order management. With automation you can reduce the time it takes your business to process orders and create shipping labels, helping you stay on top of order fulfillment. Customization will help you create templates for documents like packing slips and e-mails so you can tailor the customer experience based on the platform that the order originated from.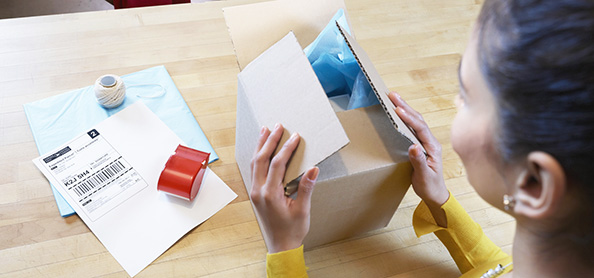 Having an efficient system to manage all your orders across your selling channels online will help you satisfy your customers and give you more time to deal with exceptional situations. Things like product returns can pop up unexpectedly, so having a great OMS in place can help you ensure that your customers enjoy the best possible experience with your brand across all your online channels.
Whether you have questions on how to consolidate your orders across selling channels, or are ready to start shipping efficiently, ShipStation is happy to help.
To truly succeed selling in online marketplaces, you need to meet or exceed the expectations of the platforms you sell on, and satisfy your customers. If you're thinking about broadening your reach, consider how marketplaces can help you tap into new pools of customers, what you can do to best position your products within that environment to increase sales, and how you can leverage technology to help you create efficiencies around order fulfillment to delight your customers.
Robert Gilbreath is the former CMO and Vice President of Partnerships at Austin-based e-commerce shipping software provider ShipStation.
We're here to help.
Canada Post's e-commerce experts can help you make strategic choices for your online business.
Contact an expert