You've crunched your numbers and chosen the ideal shipping cost that lets you win the sale and optimize your margins. You've taken everything into consideration – from boxes and packing materials to labour and carrier shipping fees – to then be surprised by shipping adjustments and unforeseen surcharges on your invoice. These charges can appear in many ways, depending on the carrier, but one thing they all have in common is that they can add up quickly if you're not careful. The good news is there are ways to mitigate, and in most cases avoid, these unexpected shipping fees altogether.
How Canada Post calculates shipping costs
To avoid shipping adjustments, it helps to understand how shipping costs are calculated. The weight of the package and the distance it needs to travel are the two main factors that impact the cost of shipping. The heavier the package and further it needs to travel, the more expensive it is to ship. However, if you are shipping a lightweight item in a big box, the big box takes away valuable storage space in our operations facilities and during transit – which is why almost all carriers also take the parcel's volumetric weight equivalent into consideration.
To determine the cost of shipping a parcel with Canada Post, we compare the package's physical weight against its volumetric weight equivalent and select the greater of the two. From there, we consider the shipping service selected and the package's origin and destination to provide your total shipping cost.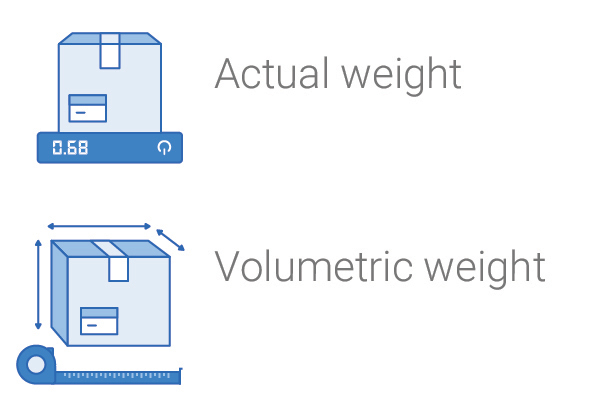 So, now you know how Canada Posts calculates shipping costs. The next step is to understand what the most common shipping cost adjustments are and how you can avoid them:
Cubing adjustments
To simplify the shipping process, Canada Post requires that the shipper declare the actual weight of a parcel. Including its dimensions (used to calculate the volumetric weight equivalent) is optional, but once the item is inducted into the Canada Post network, its dimensions are added (or verified) by Canada Post's dimension verification technology (certified by Measurement Canada and tested regularly by Canada Post) and post office and operations employees. If there is a variance between what the shipper declared and what has been detected, a cubing adjustment may be applied to your shipment and appear on your invoice as an incremental charge on your credit card bill. The surcharge will show in the section labelled "Volumetric Equivalent (VE)".
How your business can avoid cubing adjustment shipping costs
Here are three tips for avoiding cubing adjustments for your parcel:
Include the parcel dimensions in addition to its weight when creating your shipping label and remember to weigh and measure once the items are packed and ready to ship.
Be accurate when measuring and weighing your items.
Use smaller packaging if applicable.
Tip:
Weight and dimensions should be assessed after the items are picked and packed and ready to ship. Don't rely on the manufacturer's box dimensions or the manufacturer's weight of the products you're shipping as they may be inaccurate.
Take a deep dive into your shipping strategy and get our key recommendations for your business.
Explore your strategy
Oversized and unpackaged adjustments
Oversized items need to be declared at the time of shipping label creation or face potential delivery delays, holds and surcharges. We will deliver 'undeclared' oversized items for you, but we will apply a surcharge to do so. At Canada Post, we consider an item oversized if it:
Has any dimension exceeding 1 m (39.4 inches)
Measures more than 76 cm (30 inches) along its second longest side
For more details on oversize surcharges, visit the Parcel Services Commercial Price Guide.
Like oversized items, unpackaged items can wreak havoc on an operations floor. Winter tires don't tread well on a conveyor belt, and tiny loose objects like hockey pucks can easily jam sorting equipment. That's why Canada Post asks all shippers to ensure their items adhere to our packaging requirements.
We consider an item unpackaged if it:
Is not fully encased in an outer shipping container
Has excessively loose packaging
Is irregularly shaped, cylindrical, or round
Has contents that protrude outside its surface area or packaging
Like oversized items, unpackaged items need to be declared at the time of order creation. If you do not declare it as unpackaged, you could face surcharges, holds and delivery delays. If you try to deposit 'undeclared' unpackaged items in the Canada Post network, we'll still try our best to deliver them, but you can expect to pay a surcharge.
For more details on unpackaged item surcharges, visit the Parcel Services Commercial Price Guide.
How your business can avoid oversized and unpackaged shipping costs
Here are four tips for avoiding oversized and unpackaged surcharges:
Only give Canada Post packages within our specifications.
For oversized items, consider splitting your shipments when applicable. You'll have to pay separate fees, but you'll save yourself the big bill and the surprise.
For unpackaged items, encase your item in an outer container such as a corrugated cardboard box.
Be particularly mindful during the holiday season. Canada Post, along with many other carriers, will raise fees for oversized and unpackaged items during peak shipping seasons.
Out of spec
At Canada Post, the safety of our employees is a top priority. It's for this reason that we don't accept packages that are outside of our specs. If an item is deemed "out of spec," Canada Post may at any point refuse the item or return it to the shipper. If the item does somehow make its way into the Canada Post network, we'll apply a hefty $300 surcharge – or more depending on time of year.
We do this to discourage customers from shipping these unwanted parcels in our network, and we'll transfer the item to another delivery company to complete the delivery.
An item is considered out of spec when it exceeds the maximum size or weight specifications based on its applicable product table.
No one likes unexpected shipping fees when shipping their parcels. Shipping adjustments and surcharges can eat away at your margins. It's critical to do your research and ship thoughtfully. Canada Post is committed to your business' success and by sharing these tips, we hope to help you avoid unexpected fees and ship with confidence.
Want to set your small business up for success?
Read our blog post on ecommerce operations to fine-tune your backend processes.
Read blog