When Sharron Fry joined Redberry Franchising as the National Marketing Manager for BURGER KING® Canada in 2014, she was faced with the challenge of building on the company's past successes.
Her first order of business was a digital refresh, in line with the brand's global rollout of a new visual identity. This included a revamped website, and a new design for the in-store digital menu board and point-of-sale material.
The revamped mobile-friendly website, BurgerKing.ca, focused more on hunger-inducing food shots, and new features like an interactive menu and nutritional calculator. Her next step was to assess whether or not the company's existing direct mail initiatives, the lifeblood of QSR marketing, were actually working effectively.
Let's get phygital: Blending the physical and digital worlds
In the age of the smartphone, it's easy for quick service restaurants to assume that digital media is the most effective option for highlighting discounts and special offers. But recent research into how buyers make decisions shows that's not always the case. Direct mail outperforms digital ads in driving in-store purchases significantly – a finding that doesn't surprise Fry, who serves on the Board of Directors of the Direct Marketing Association of Canada.
"Over the course of my career, I've learned that there's no silver bullet in marketing, just different vehicles for different kinds of messages," Fry says. "Using multiple message vehicles helps reach a wider range of customers."
Digital advertising may grab the attention of consumers more quickly, but physical media holds that attention longer, prompting a greater emotional reaction and playing a key role in purchasing decisions.
"Frankly, I don't believe direct mail will ever be replaced – it's really a unique vehicle," Fry says. "Nine out of 10 people check their physical mail when they get home. You simply can't beat that."
Opening a marketing window into customers' minds
Though the company's existing direct mail coupon campaigns had performed well, Fry believes there's always room for adjustments or improvements. That's why Canada Post's Predictive Eye Tracking analysis piqued her interest.
Predictive eye tracking uses a software model that predicts where people are most likely to look. It's the equivalent of 40 people looking at your message for five seconds: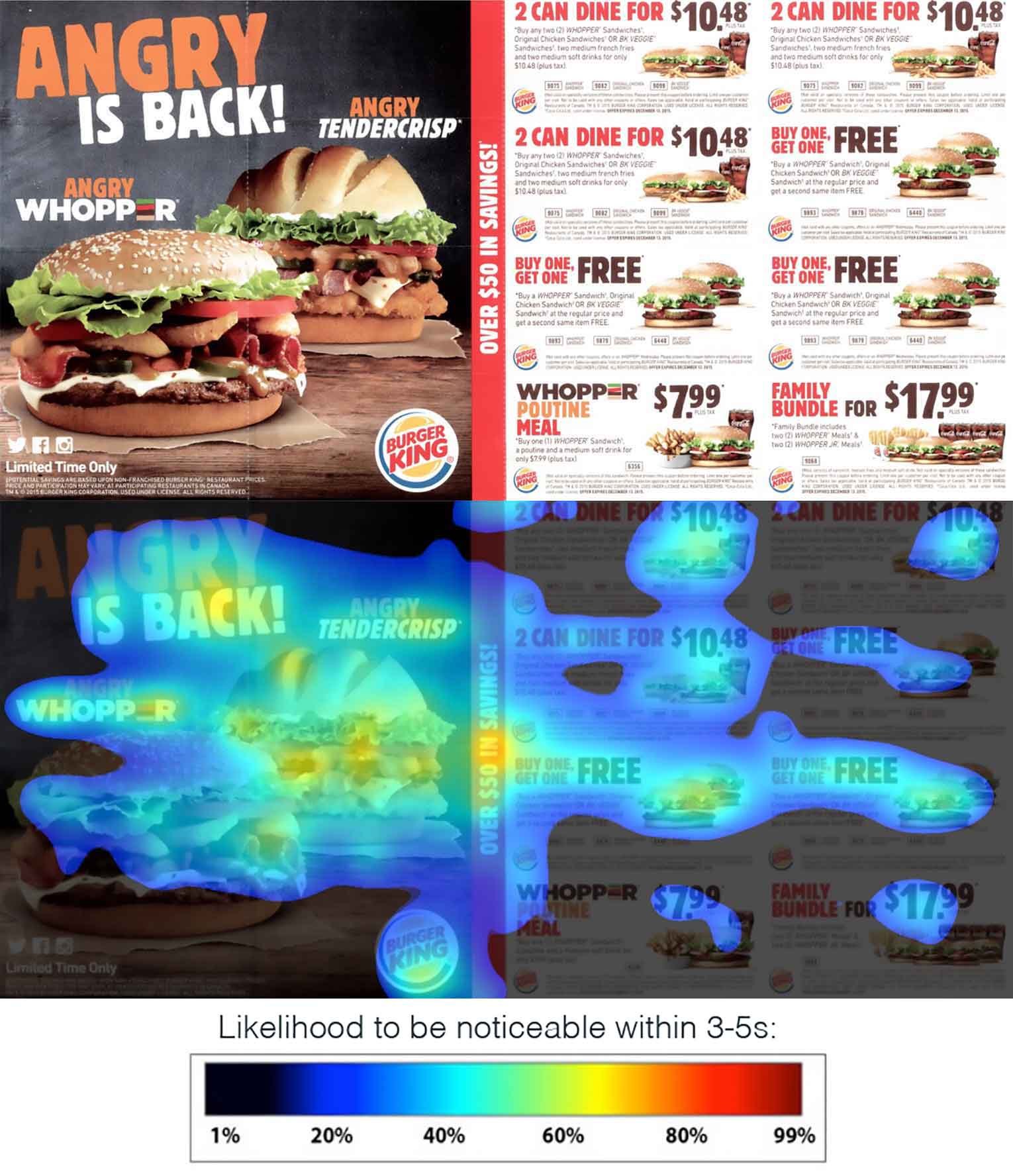 The results are designed to optimize design and content, focusing on key messages that can help improve current and future communications, and ultimately boost conversion rates.
"Sight is one of the most important physical senses in marketing – especially in the food industry – but it's often difficult to know how much attention potential customers pay to our messaging," Fry admits. "We found that predictive eye tracking eliminates most of the guesswork."
Using predictive eye tracking to drive creative
After scanning a proposed coupon design, the resulting detailed report provided a number of recommendations.
These included streamlining the piece to focus on one image and message, creating a focused "line of sight" customers could read from left to right, and adjusting the colour palette to create more contrast among design elements.
Other suggestions included boosting the product image's size by 20%, placing the key promotional sandwich coupon close to the tagline, and increasing the number of coupons from 12 to 16 on each piece.
While the suggested changes were certainly dramatic, Fry's team quickly bought in to fine-tuning the offer – and they're glad they did.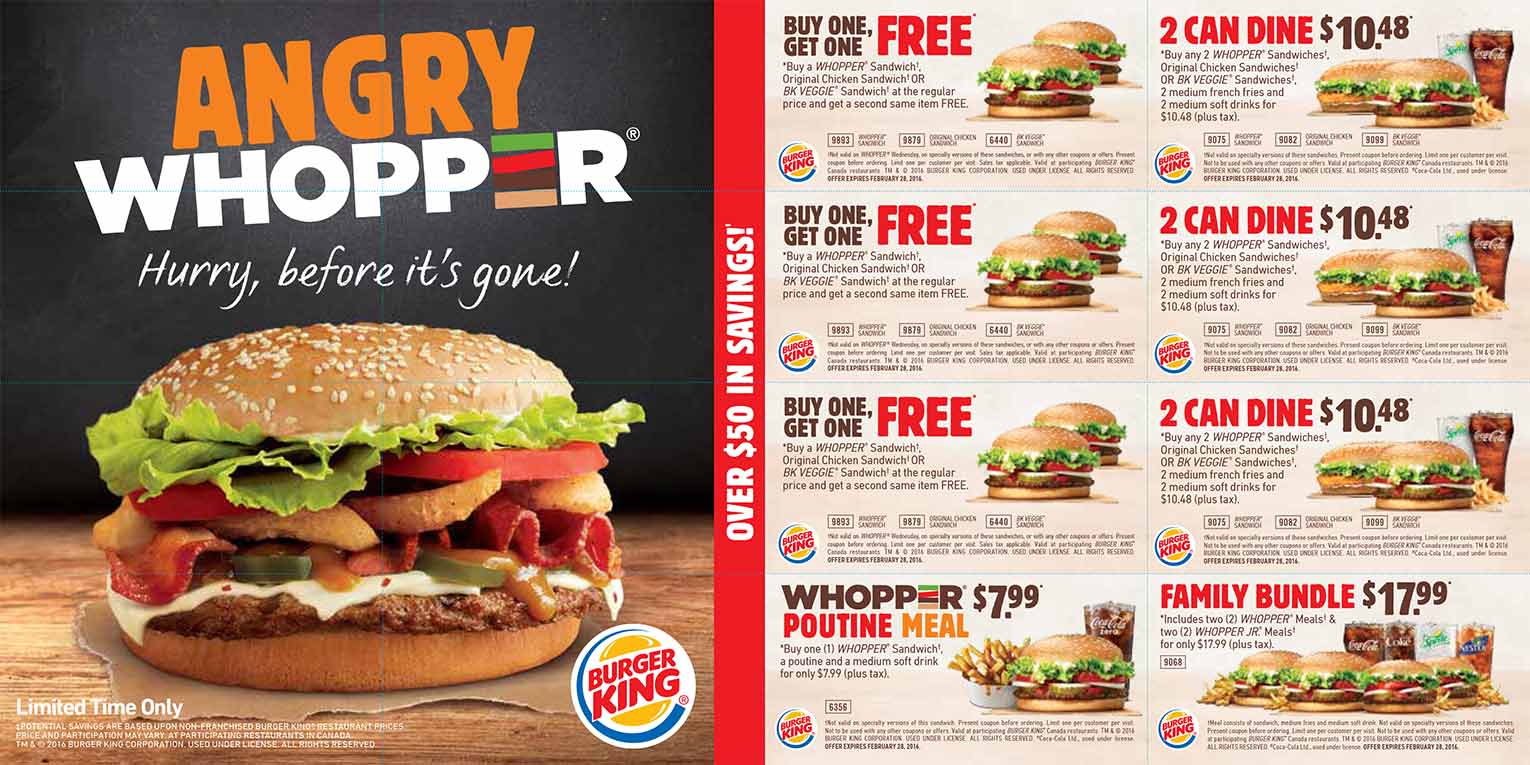 In its first two coupon drops of the year using this revamped approach, Burger King experienced 26% growth in redemption. At the same time, it increased its gross profit on coupons by 40%.
"Even though our established ad mail campaigns were successful and profitable, we were blown away by how well customers responded to this new approach."
Adopting a customized approach to marketing
It's not only national brands with major budgets that can use these techniques to improve the efficiency of their marketing, Fry believes.
She's also responsible for local Burger King marketing for Redberry, and is convinced these methods can be scaled down to a single business, or scaled up to a national campaign.
To do that, she suggests marketers consider the following three points:
1. You've got three seconds. With a steady stream of new technologies and gadgets, the human attention span continues to shrink. Imagine that you have only three seconds to capture your audience– you will need a compacted "elevator pitch".
To entice consumers to read more of your direct mail offer, make sure that your call to action is focused, simple and clear – both in the creative and the language. Less really is more: the less complex your piece is, the easier it is to get your primary message across in 3 seconds.
2. Narrow your target. The #1 attribute of a successful direct mail campaign is "response". Identify your ideal response,and then specifically target the customer to give you that outcome. Don't use a shotgun approach and say, "I want all families." Perhaps your best customer lies in the "adult single female, aged 35, no kids" category.
Once you've identified your ideal target, tailor the message and the media channel to reach that target. The more "targeted" your message, your audience, and your media channels can be, the better your results.
3. Fix it anyway. If your direct mail program is delivering good results, that doesn't mean that it can't perform even better. Challenge yourself by taking what's working well for you,and looking at it with fresh eyes.
The market may have changed, your ideal target client may have grown up, or new competitors may have entered the landscape. Keep testing your direct mail theories, keep trying, and keep constantly improving.
Getting your message to the people that count
Effectively targeting the right customers, in the right locations, will help improve response rate for any direct mail campaign. After reviewing its existing geo-targeting process, Burger King thought it could do better.
The firm's previous geo-targeting, for instance, assumed that customers would travel in a straight line to a restaurant location. It didn't consider actual road routes, or if there were barriers like rivers, steep hills or hard-to-cross freeways, Fry explains.
Using Canada Post's Precision TargeterTM, a free online tool that helps you plan the best delivery routes for your direct mail campaign, yielded immediate and dramatic improvements, however.
"It really worked for us. Layering in key demographic data filters such as age, family size, and income for given postal code areas, on top of driving distances, uncovered those neighbourhoods that were richest in possible customers."
Canadians are thinking and eating differently than they did several years ago, Fry says. Her advice: "Don't waste your advertising budget talking to the wrong people."