Direct mail is a powerful and versatile tool that you can use in your small business marketing strategy to effectively promote your business and boost your bottom line. While it may seem like old news, direct mail marketing has stood the test of time! In fact, when used strategically, it can drive greater results than just doing digital campaigns like email and social media marketing. Continue reading for our step-by-step guide to mastering the basics of direct mail marketing.
What is direct mail?
Not sure what direct mail is? Check your mailbox! If you've ever received a promotional piece of mail, that's it. Simply put, direct mail marketing is promotional mail. It can include flyers, brochures, catalogues, postcards and other pieces designed to grab attention. Leverage your brand's creativity in a whole new medium to catch shopper's attention. Direct mail is a unique marketing channel because it can reach anyone with an address – young and old. It can be sent directly to consumers' homes, PO boxes or their business address. It's also highly effective – 37 per cent of shoppers say they prefer to receive promotions from small local businesses in their mailbox compared to other forms of communication.1
How to create a direct mail campaign
Think you're ready to incorporate direct mail into your small business marketing strategy, but not sure where to start? Rest assured that creating and sending a direct mail campaign is easy. Here are the basic steps to follow:
Define your campaign's objective
As with any marketing campaign, you need to know your end goal. Is it to acquire new customers and bring them into your store? Is it to offer repeat customers a reward for their loyalty? Maybe you're looking to target a specific kind of customer? Knowing the why of your campaign will help you get started and ultimately create a mail piece that achieves your goals.
Define your audience
Who do you want to send your campaign to? Are you trying to reach a certain demographic or specific type of customer, or are you targeting a geographic area or neighbourhood? If it's a loyalty play, you'll want to target existing customers who fit the parameters of the offer – for example customers who made 5+ purchases from you in the last year, or those who have shopped online and live in the neighbourhood but haven't bought in store before.
Tip:
Looking to target a specific neighbourhood, perhaps in the vicinity of your business, with a direct mail piece? Consider Neighbourhood Mail™. It enables you to target residents of geographic areas close to your business. It's a great way to advertise with the goal of acquisition and/or retention.
Set your budget
Campaign budgets can vary for direct mail campaigns, so it's important to set your budget before you begin creating your campaign. You'll need to factor in things like the cost of printing and mailing, as well as the costs of any external resources you may enlist to help you build your campaign (i.e. freelance graphic designers, writers, etc.). This is especially true if you are going the "do it yourself" route. If you plan to manage the design of the piece yourself or leverage an existing template, and know who you want to target, we will manage the mail prep and distribution for you! If you do choose this route, check out Snap Admail and get a free quote before you begin.
Alternatively, you can take the "do it for me" route, leveraging the expertise of Canada Post's direct mail partners, a.k.a. Smartmail Marketing partners. These partners can manage everything from A to Z for you – without breaking the bank!
Don't forget – effectively managing your timelines and resources (including the time you're putting in yourself) can help you keep your budget on track during the process.
Stay in the loop! Our e-newsletter brings you small business tips, how-tos, special offers and events.
Subscribe
Craft your messaging and include a call to action
When it comes to crafting your campaign message, you need to factor in who you are targeting and ensure that it speaks to them. That means choosing a tone and style that might resonate with that audience and making your messaging clear and visible. Grabbing attention is always a good idea and there are countless ways to do so.
You could include a great promotion to captivate readers – for example, "Exclusive offer just for you!" – but make sure you include sufficient detail to ensure they understand what you want them to do and what your call to action is. Elements to consider when you draft your copy are:
Is the offer available both in-store and online?
Is there an expiry date?
Are there exclusions they should know about?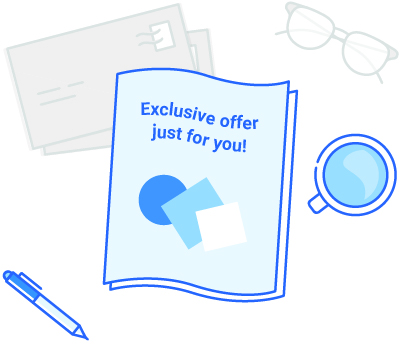 It also doesn't hurt to show your copy to someone who is out of the loop to ensure that they can make sense of it and that they find it engaging and actionable.
Consider an integrated campaign
Integrated campaigns are highly effective because they work across channels to grab and hold attention. Think of it this way – have you ever sent a follow-up email after a phone call or in-person meeting? The same principle applies with integrated campaigns – a postcard followed by an email or vice versa can grab a customer's attention better than relying on only one channel. When you're planning your direct mail campaign, consider how it could be integrated with your other marketing channels. If you decide to integrate, make sure the digital pieces launch at the same time, or in a well-timed sequence, to create a seamless campaign experience.
Use tools and resources to plan your campaign
You don't have to do it all alone. There are tools and resources at your disposal that make crafting and sending direct mail campaigns a breeze:
Tool: Snap admail
Canada Post Solutions for Small BusinessTM members have access to Snap Admail™. This handy tool enables them to pinpoint the best neighbourhoods to target, design their direct mail piece with free design templates, upload their own artwork/design or access professional design support to create something unique and captivating for their campaign. Orders are placed online and Canada Post takes care of the rest – printing, online ad design (for integrated campaigns) and delivery of the piece.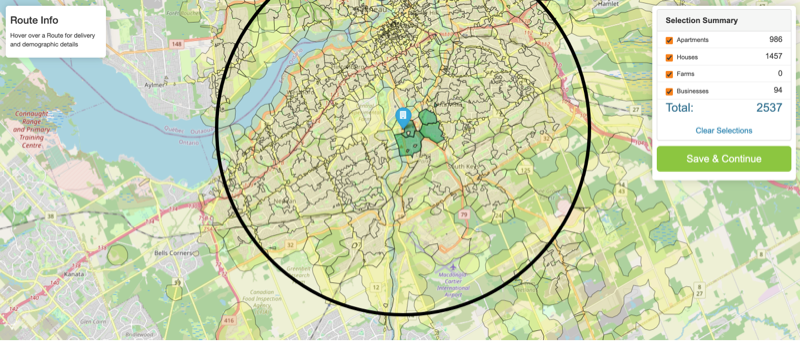 Resource: Direct mail partners
Canada Post's Smartmail Marketing partners can also help you produce your next campaign. In fact, they can manage it from start to finish.
Find a local partner in your area and lean on them to craft your message and design, target your ideal customers, print and distribute your campaign and test and measure the results. You can work with them whether you only have a vague concept for your campaign or know exactly what you want – they're equipped to support all stages of the process, whatever that looks like for your business.
Tip:
Canada Post has more than 250 independent Smartmail Marketing partners across the country who can work with you to fully support your campaign goals. Ranging from mail service providers to advertising and data marketing providers, our partners can help you with every aspect of your campaign objectives. This can include campaign planning, data and targeting, creative, printing and delivery by Canada Post.
Resource: Data
Canada Post makes it easy for you to leverage the data you already have on hand in your campaigns. Let's look at the loyalty example again. Say you're targeting customers who have made 5+ purchases from you in the last 18 months online. You want to drive them to your physical store but you're not sure how to do it. Canada Post can help you leverage the shipping data you've gathered to mail them a direct mail piece. If you don't operate an online store but you have an e-newsletter, you can ask for contact details when users sign up for your mailing list (first and last name, home address and postal code is all you'll need!). You can leverage this address data in future campaigns.
Tip:
When someone unsubscribes or opts out of email marketing communications from your business, you can still connect to them through direct mail. It's a great tool to use to connect with old customers as it enables you to remind them about your business and encourage future purchases!
Create a timeline for your campaign
Create a production timeline that you and your support team can stick to that captures the key dates related to your direct mail campaign. This will help you ensure all the required elements for your campaign make it to the printer on time. Sticking to this timeline will ensure your direct mail piece is inducted and will make its ways into consumers' hands in a timely fashion. Here are some things to factor into your timelines:
Briefing
Creative reviews
Translation (if applicable)
Approvals
Printer upload
Review of printing proofs
Data transfer
Review of samples
Delivery
Tip:
What does it mean to induct? Inducting your mail piece means handing it off to Canada Post. Your partner can induct the mailings on your behalf, or, if you're handling the campaign on your own, you can drop the mailings off at a designated Canada Post drop-off location or post office. Get more details on drop-off locations and timelines for delivery.
Get your campaign into mailboxes
How you get your campaign printed and delivered depends on how you created it. If you used our Snap Admail tools, once you place your order, we take care of the rest! Your piece will be printed and delivered by our team, on your timeline. If you chose to work with a direct mail partner, they may drop off your mail pieces for you. If you didn't use either, you will need to drop off your mail at a Canada Post drop-off location. To ensure there are no unexpected delays, make sure you:
Secure your mail
Place your mailing in Canada Post containers or in your own boxes.
Position your pieces correctly
Make sure all your mail pieces are facing upright in the box/container.
Label your boxes/containers properly
Label each box/container with the urban or rural facility where the boxes/containers will be delivered. Make sure to write your order number on each label.
Measure your campaign's results
By measuring the results of your campaigns, you can learn from experience and improve future campaigns. It may seem like a hassle but incorporating testing and measuring tactics into your marketing strategy is well worth the effort.
It's important to set your campaigns up with a way to test and measure their effectiveness. There are many elements you can test in a direct mail campaign:
Test your promo codes
If you opted to include any promo codes in your campaign, you can measure their effectiveness and impact by checking things like how many people used them. It's a good idea to compare that number with how many people you informed about the promo code via your campaign to see if your offer was enticing or fell flat.
Measure your website traffic
It's a great idea to measure your website traffic before, during and after a direct mail campaign that was designed to drive people to your website. You can do this easily if you used any MURL/vanity links that were campaign specific. You can also check for traffic spikes when the campaign was in market through your website's analytics or create a unique promotion code that is only applicable to the campaign that went out.
A/B test your messaging and offers
Not every message and/or offer that you send will resonate with your audience. If you're still determining your business' ideal voice, direct mail campaigns offer ample opportunity for A/B testing of different messaging. You can send different campaign messaging to different customer segments in the same campaign – in either the same target demographic/area or different ones if you are trying to tailor it to particular groups. You can also test different offers in this manner – for example, you could offer one segment a percentage discount and another segment a buy-one-get-one-free offer to see what drives more traffic to your store. You could also offer some users online versus in-store exclusive offers to see what drives customers to purchase more.
Test your timing
Even campaign timing can be tested – especially if you're comparing between high selling periods and slower periods.
For example, consider testing the effectiveness of a direct mail awareness campaign during higher selling periods such as the holidays, back to school or any other key periods for your business to draw in new customers. In slower selling periods, use direct mail to reward your existing customers' loyalty by offering them exclusive discounts through a campaign that encourages them to buy at a time when they might not otherwise.
Ask for feedback
When in doubt, ask. By including a "How did you hear about us?" section in your online checkout page, or at the till of your brick-and-mortar store, you can figure out what's getting customers in the door and driving them to click the buy button.
Direct mail might seem like old news, but it continues to resonate with shoppers today. 46 per cent of Canadians say that mail is a good way to find an online store they haven't heard of,2 and 47 per cent say that mail is a good way for their favourite brands to show they value them.3
Still don't believe us? Try it out and see for yourself. We're confident you'll be amazed by its true potential for your small business. It's the best way to reach customers at home – where they make their most important purchasing decisions. When well planned, direct mail can enhance your existing marketing strategy and help you connect more deeply with consumers.
Sources:
1 Canada Post. Canada Post Spring Survey, 2020.
2 3 Canada Post, 2021 Spring Survey, 21-211, June 2021.
Ready to integrate direct mail into your marketing mix?
Read our guide to developing an integrated marketing campaign. It will help you reach shoppers online and offline.
Read the guide