Amazon's 70-page printed toy catalogue for the holidays aims to fill the void left by the demise of Toys "R" Us. According to Vox, A Holiday of Play, Amazon's Ultimate Wish List for Kids – the online giant's first toy catalogue – is being mailed to millions of customers.
Print catalogues have been enjoying a renaissance, and the bold move by the world's most recognized e-commerce player has marketers rethinking their media mix. When Amazon decides to do it, you know it makes sense.
So, how do you create a game-changing catalogue to grow your business? How do you even know if a print catalogue is right for you, or for the audiences you want to reach and influence? Like any other business decision, arriving at the answer takes time. Weigh options carefully and consider your strategy against a backdrop of business objectives.
Brand extension and sales driver
Williams-Sonoma's Felix Carbullido told the New York Times about the company's changing view of catalogues, "Years ago it was a selling tool, and now it's become an inspirational source."
Where the catalogue was once a weighty volume of product images and descriptions, it's lately taken on an aspirational, but authentic, feel supported by a strong visual storyline. And that hasn't stopped it driving sales. Often considered the domain of the traditionalist, printed catalogues are now attracting e-commerce pure plays.
Innovative tools like predictive eye tracking (PET) have taken the guesswork out of the creative process. Augmented reality (AR) is delivering excitement plus novelty value – especially for millennials, who are taking a fresh look at the medium.
Online-only retailers see lookbooks, wish lists, gift guides, source books, style guides and brand magazines as a way of breaking through the digital clutter. They're a great way to engage consumers, build loyalty and drive sales both online and in-store.
Retail industry futurist, Doug Stephens, tells us, "It comes down to execution. A beautifully crafted, shot and produced catalogue can definitely have an impact. The question for brands is more about what they want the consumer to do once they've read it. Will it drive the consumer to a store? Will it take them online to order? These goals have to be clearly defined and the strategy put in place to execute against them."
Bruce Cohen helps retailers transform and grow their businesses. He talked to the New York Times about the power of the catalogue to drive sales, and explained how one retailer learned a costly lesson about cutting corners. When Lands' End reduced the number of catalogues sent to consumers, it lost $100 million.
By later adding a survey to its website, the company discovered that 75% of customers making purchases had first reviewed the catalogue.
6 things you should know about print catalogues
1. Physical media gets noticed
Neuroscience tells us that physical media pieces are easier to understand and more memorable than digital media – and far more persuasive.
Motivation response (the feeling of wanting that drives urges and decision-making) for direct mail is 20% higher – even more so if it appeals to additional senses beyond touch. According to neuroscientist, Diana Lucaci, founder and CEO of True Impact Marketing, "By any standard, a 20% difference in motivation response is very, very big."1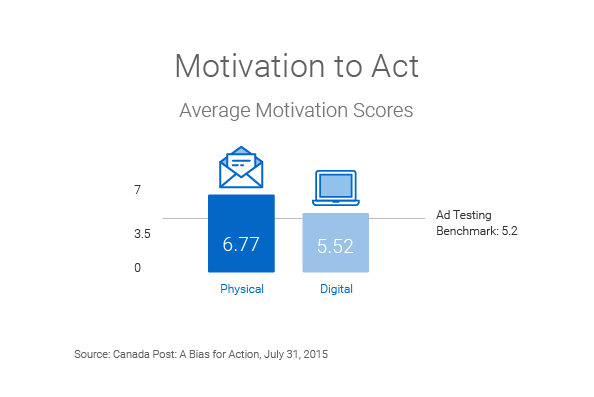 A recent article notes how, "Our natural cognitive connection with print is great news for marketers. Many savvy brands have recognized the power of print's multisensory experience and are using it to their advantage."
2. Intelligent targeting works
Mass mailings are a thing of the past. Now, it's all about respectful and intelligent application of data. According to industry insiders, Domtar, "With the help of customer data, printed catalogues now can be customized to include items an online shopper may have viewed but not purchased…Customer data can also alert brands to potential sales opportunities…Nordstrom, for example, chooses to select a few key pieces to advertise in its printed catalogues. With the Nordstrom app, readers can shop the item online, get additional information on sizes and colours and even access styling details. Catalogue mailings triggered by data collected from these actions can then be highly customized, allowing for more meaningful and personal connections with consumers at exactly the right time."
3. This is a respectful way to connect
Cambridge Analytica opened eyes to just how vulnerable online personal information can be when, according to Fortune magazine, it gained access to private information of up to 87 million Facebook users. Cambridge Analytica used the data to offer targeting tools that could identify individual personalities and influence voter behaviour using hyper-specific digital ads.
In contrast, Canada has been ahead of most countries in protecting the privacy of its consumers – with legislation that helps safeguard Canadians while ensuring that businesses can continue to compete in the global marketplace.
4. Life stage is important
Today's catalogue oozes lifestyle and aspirational goals. Canada Post's Director of Marketing Research, Ani Ieroncig, says that it's not just boomers who like reading paper catalogues for ideas and inspiration. A recent study shows that all generations do. In an age of digital clutter, where 55% of millennials said the volume of email promotions they receive is overwhelming2, print catalogues represent a welcome alternative – a way for consumers to engage with brands on their own terms, in their own homes.
Life stage has a lot to do with this. A comparative analysis of millennial and Gen X data revealed that the presence of children in the household makes parents more likely to follow media channels – in particular print promotions. For millennials with children, there's a 16% increase in print engagement, while for Gen Xers, the increase is 7%.2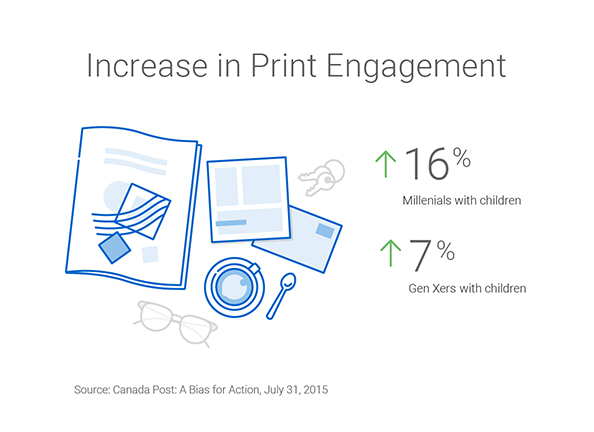 Consider who you're trying to reach, what stage of life currently consumes them and how that affects the way they engage with media.
5. Catalogues are engaging
Wrapped in the ritual of arriving home, mail draws consumers towards inspirational brand messages. A less intrusive experience, physical mail is also more likely to get noticed, opened, read and enjoyed than are digital forms of advertising. Plus, consumers not only keep physical mail – they also display it and share it. This creates multiple opportunities for noticing brands and engaging with them.
Catalogues can also be very persuasive. Whether it's to drive a store visit or a purchase, there's a clear call-to-action that resonates.
6. This is where integration happens
Twenty-five per cent of printed catalogues trigger a website visit, and 33% prompt a visit to a retail store.3 Thanks to technologies like AR, they no longer operate in an inanimate space, and they play well with other channels.
Used in the right sequence, as part of an integrated campaign, catalogues can lead shoppers to additional information, such as online peer reviews and social media likes, to shopping from an app or enjoying in-store brand experiences. And that will put them on the path to purchase.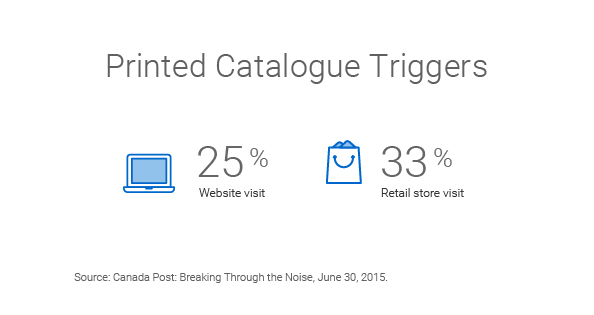 To help you with your thought process, we've created a five-part blog series devoted to catalogues.  A knowledge pool of extensive, expert advice waiting for you to dive in:
Your catalogue questions answered in 4 more blog posts:
Sources:
1 Canada Post: A Bias for Action, July 31, 2015.
2 Canada Post, Phase 5, Advertising Communication Preferences and Generational Differences (2017).44% of millennials, 48% of Gen Xers and 52% of boomers like reading paper catalogues to get ideas/inspire them. 55% of millennials, 49% of Gen Xers and 42% of boomers said the volume of email promotions they receive is overwhelming.
3 Canada Post: Breaking Through the Noise, June 30, 2015.
Ask a Smartmail MarketingTM solutions specialist to drive better results with catalogues.
Speak to an expert