Neuromarketing science reveals bottom-line impact of engaging the senses
It's a little past noon and our toddler is ready for her nap. I'm feeling optimistic about catching up with work emails during this next hour, so we start getting her ready. Now the only thing standing between me and power productivity is Robbie the Robot.
Where did I put that thing? Naps cannot happen without her favourite lovey, a light blue soft toy that's losing its shape. Time is ticking; this girl is yawning. No other lovey smells or feels like Robbie. There's no fooling her.
It's fascinating to watch a person's sensory systems develop before your eyes. In the first few months, she loved following our facial expressions and preferred the smell of foods I ate during pregnancy. As she grew, she explored new objects with her hands and, more often, with her mouth. Navigating a space was tricky before depth perception, and with time she developed good awareness of where her body is in space.
Seeking sensory engagement
When your senses are engaged, you experience the world in technicolor. You form richer memories and connect those memories with positive feelings; every human being derives joy from art, music, nature or even a good commercial.
Emerging from a global pandemic, people are seeking engaging interactions with their favourite brands. The climate is ripe for sensory innovation.
As a brand or agency, you want to make sure your message is resonating – starting with getting attention. The message must first be seen, then perceived as relevant, before ultimately being selected. The challenge comes when it's time to execute campaigns that get noticed as well as engage the senses, trigger an emotion and encode into memory.
Sounds like a tall order, but it can be easily broken down into achievable steps when guided by neuro-design practices.
Unlike a decade ago, today's successful brands rely on human emotion and attention data to understand their audience. Measuring what grabs an audience's attention is no longer a difficult process, involving investments of $20,000 or more and a timeline of a few weeks. It has become more affordable, accurate and accessible. After all, it's only neuroscience, not rocket science.
The next best thing to having a crystal ball. Read The Year Ahead issue of INCITE.
Get INCITE
Engaging the senses
Executing successful marketing campaigns means engaging the senses. Whether the medium is physical (i.e., direct mail or out of home) or digital (i.e., email, landing page, video, mobile), there are many ways to trigger an emotion in the moment.
In the digital space, haptics (any technology that can create an experience of touch like your phone vibrating after getting a notification) intensify emotions and increase engagement and memorability. In 2018, I partnered with Immersion to understand the effect of haptics on the brain. The research analyzed brain activity when exposed to different levels of haptic technology. The results showed that haptics make content more approachable and appealing overall. The study showed that haptics influence recognition and perception, with an 18 per cent increase in the perception of quality for featured products, an 11 per cent increase in brand value and an average 40 per cent increase in the ability to recall visuals (condition recall) compared to non-haptic scenarios.
Haptics seem to have a profound impact on how people react to digital experiences1. The intensity of haptic feedback triggers a higher or lower level of motivation (how drawn you are towards something) and arousal (how emotionally intense the experience is). A high level of haptics is shown to elicit stronger responses in the brain at key moments during the ad.
Another popular method to stimulate the senses digitally is the use of sound in a more subtle way. Starting around 2019, many brands, like IKEA and Renault, have created advertisements that whisper and tingle, instead of shout. Sounds like these trigger the autonomous sensory meridian response (ASMR), a feeling of deep relaxation and a pleasant, tingly sensation some people experience in the scalp or upper body. Whether the crinkle of a shirt or a whisper, soothing sounds like those in ASMR videos can reduce the heart rate by about 10 to 15 beats per minute2.
One popular example of a mainstream ASMR commercial comes from the Michelob Ultra Superbowl ad, featuring Zoe Kravitz. During the minute long ad, she never raises her voice above a whisper while tapping her fingernails against the bottle and pouring its contents into a glass. Integrating quiet sounds like these can create a very realistic experience in our minds, break through the loud and can be especially useful when the element of touch is not present.
Physical media has a big advantage over digital, in conveying product quality and value. It allows a brand to engage across the tactile, visual, olfactory and auditory senses. When three or more senses are engaged, a brand's impact increases by as much as 70 per cent3.
The sense of smell is one of the most primitive abilities, closely connected with emotional experiences. Print media can also use scents that enhance a message and promote its memorability. For example, Liberty Mutual ran a scented print ad in the April 2019 issue of Chicago Sun-Times that read: "If you're thinking about a new car, think about Liberty Mutual". On the right side of the page was a flap that contained 'that new car smell'. To make the print ad stand out, the brand used the trigger of the new car smell to help the reader remember to investigate automotive insurance.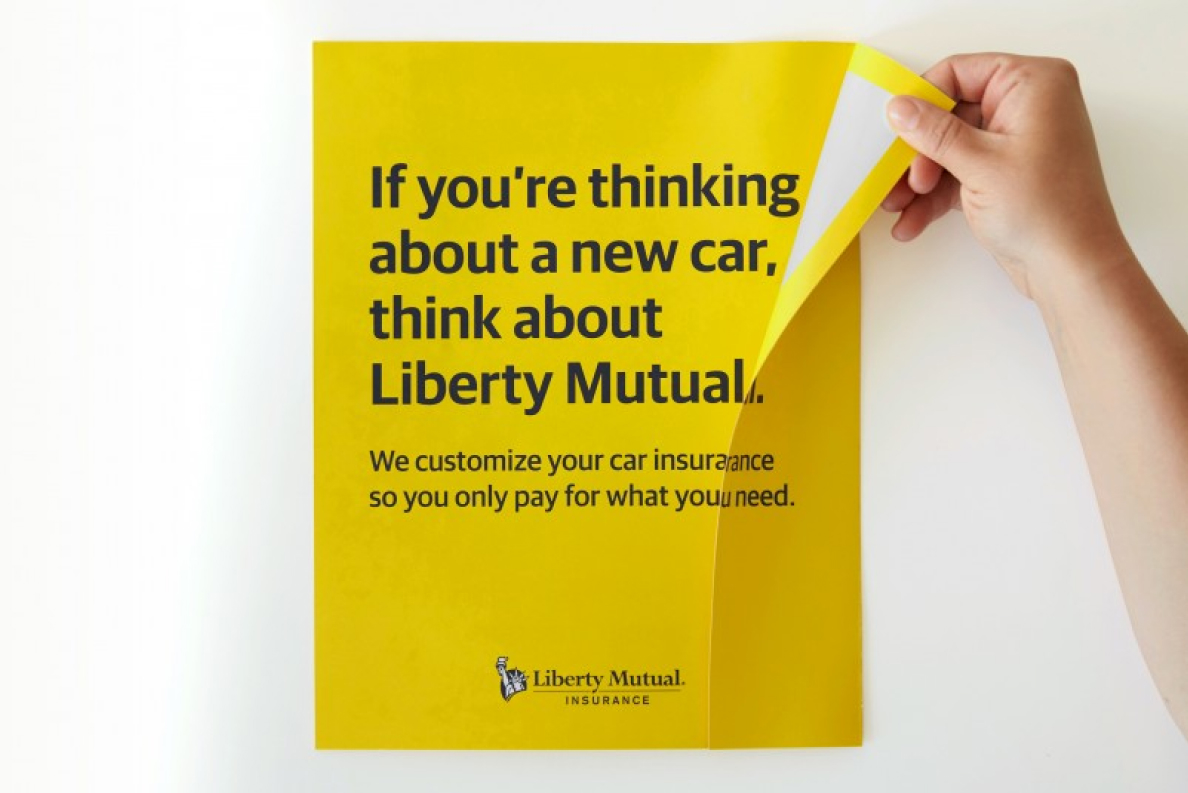 Incorporating different paper weights and textures is a great idea to engage the tactile sense. A thicker paper stock conveys a high investment offer, such as a luxury item. To communicate different emotions consider adding foil, embossing, spot varnish, cut outs, folds or laser etching.
Optimizing for sensory connection
The easiest and most influential sense to captivate is sight. Start with what your audience will see. As mentioned before, you need your message to be noticed before it can be perceived as relevant.
With a bit of objective attention data, you can identify the images, fonts, colours, words or layout that will quickly and easily enhance a key message or call to action – acting as a heuristic. The design of a digital or print piece is the first and most influential step in the success of the campaign.
In the past decade of conducting neuromarketing research, we've found about five common mistakes that most marketers make:
Execution is too confusing or too busy
Images don't match the content.
Colours distract from the intended customer action
Images of people are not used properly and distract from the message
Layout is counter-intuitive for the purpose of the piece
By training our AI system with attention data from published computer vision academic literature and a vast attention database, we built a tool that can quickly identify what gets people's attention. Our tool, trueSCAN, which helps optimize communications, email, print, web, OOH and much more, can quickly identify what gets attention. Knowing what is seen first gives the brand an opportunity to make changes, before the piece of communication is in market.
For example, when revamping their email strategy, MD Financial went from a text-heavy design to a well-organized and easy-to-understand design. When tested with trueSCAN, the results showed an opportunity to reduce content and allow more white space. A quick change in the early design stages helped this email communication get four times the regular click-through rates.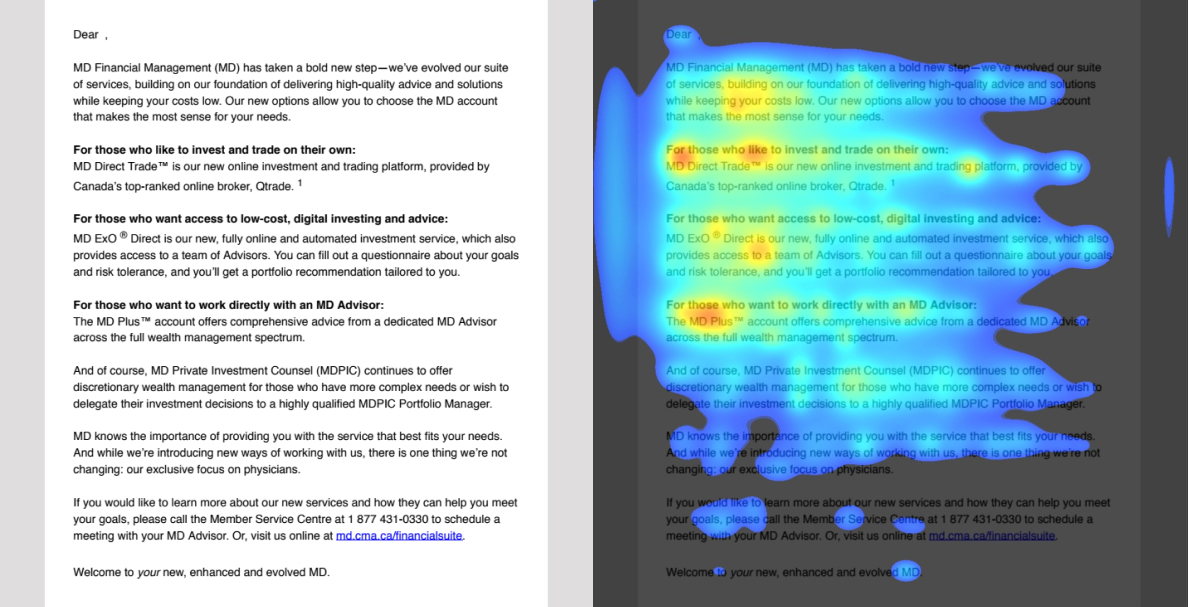 When it comes to optimizing communications, a brand's objective should be threefold:
Grab attention within one second.
Have attention fixated on a desired message or call to action.
Maintain interest for the duration of the user experience.
Connecting with your audience at an emotional level requires a deeper understanding and knowledge about how to engage their senses. Conversion to a call to action is important, however so are brand awareness, memorability and brand loyalty. The senses can deliver more of everything. The best way to remain top of mind is to think creatively about the human being on the other end – starting with what they will see.
This article originally appeared in the 2022 Year Ahead issue of INCITE magazine.
Sources:
1Business Wire. "New Neuroscience Study: Haptics Intensifies Emotions, Increases Engagement, Memorability," October 23, 2018.
2Vulture. "Inside the rise of the ASMR commercial," March 12, 2019.
3Reed Pacific Media. "Scent branding: Why your store should have a scent?", June 19, 2018.
Stay ahead of the competition
Find out how integration is evolving in an ever-changing marketing landscape – and what that evolution means to you.
Visit INCITE online
Neuromarketing scientist Diana Lucaci is founder/CEO of True Impact, former chair of the Neuromarketing Science and Business Association, committee member of the Standards Council of Canada and winner of the Best in Class research award from the Marketing Research and Intelligence Association.Read more by Diana Lucaci