Enjoy this INCITE featured audio article anytime, anywhere.
Listen now
At some point in the pandemic, I went down to the basement and blew the dust off a collection of letters dating back to the person formerly known as me. Reading them took me away from habitual screen time and connected me with a narrative that revealed how I'd travelled from past to present. Those letters helped ground me during the most significant and startling global event of my lifetime. Letters – from my parents, distant boyfriends, the man I married, my sister adventuring abroad – reminded me of the importance of real people in a world that I can see, touch, smell, celebrate and value. They were redolent of the joy to be found in simple pleasures and in the communities that have animated me.
In a Forbes article, "One Year Later: 8 Reflections From the Pandemic,"1 Helen Dwight describes us as fundamentally social creatures, relying on each other for support, motivation and appreciation. The pandemic taught us to be mindful of the moment, engaging all the senses. That's why experiences matter.
Meanwhile, conversation circled the desire to return to normal. While it's undeniably wise to learn from the past, it doesn't make sense to me to build a future that looks too much like the before times. Instead, let's match this moment in history with a more mindful and balanced response. As we look up from our screens and come back to those moments we can touch with all our senses, let's edit the story. A hybrid mindset gives us delicious opportunities to integrate all sides of our divides into a more rewarding whole.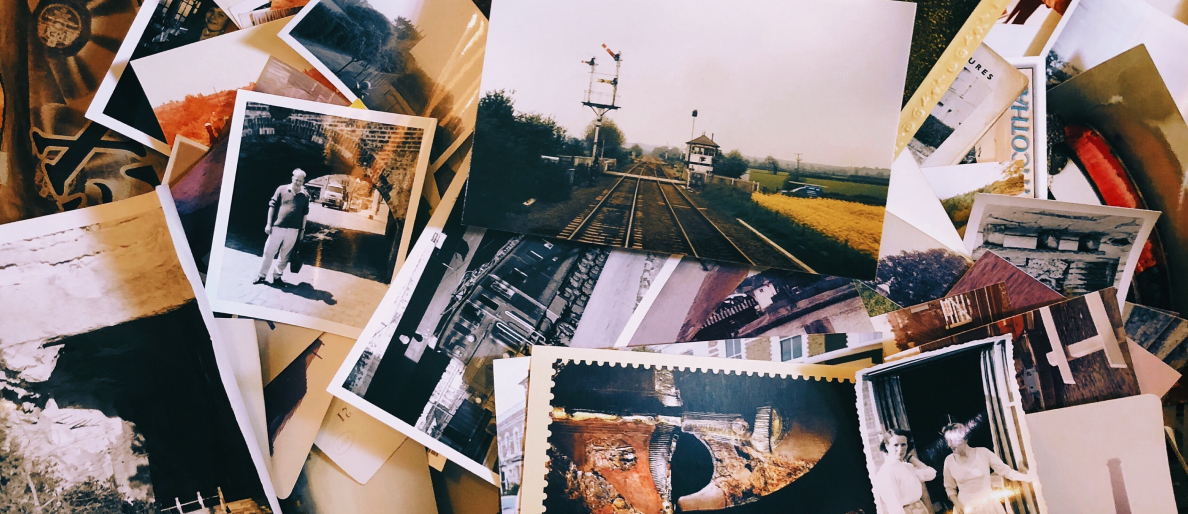 Connectivity
Much has been written about the speed of digital transformation during lockdown. We live, work, shop and dine differently now. The pandemic also reminded me of how much I crave the punctuation of real-life encounters and experiences. As vaccination programs reconnected us with the world, those material moments became priorities. We found pleasure, excitement, community and solace in physical expressions of who we are – and we baked these delights back into our lives.
During my first post-lockdown visit to a clothing store, I basked in the swish of hangers, the feel of fabric and the excitement of trying on something I wouldn't have to pack up and return if it didn't fit. Carefully curated clothing stories made the supremely Instagrammable store a mini work of art. I felt the same excitement at Toronto's Stackt Market, an experience that's successfully combined community, entertainment, hospitality and retail in the largest container market of its kind.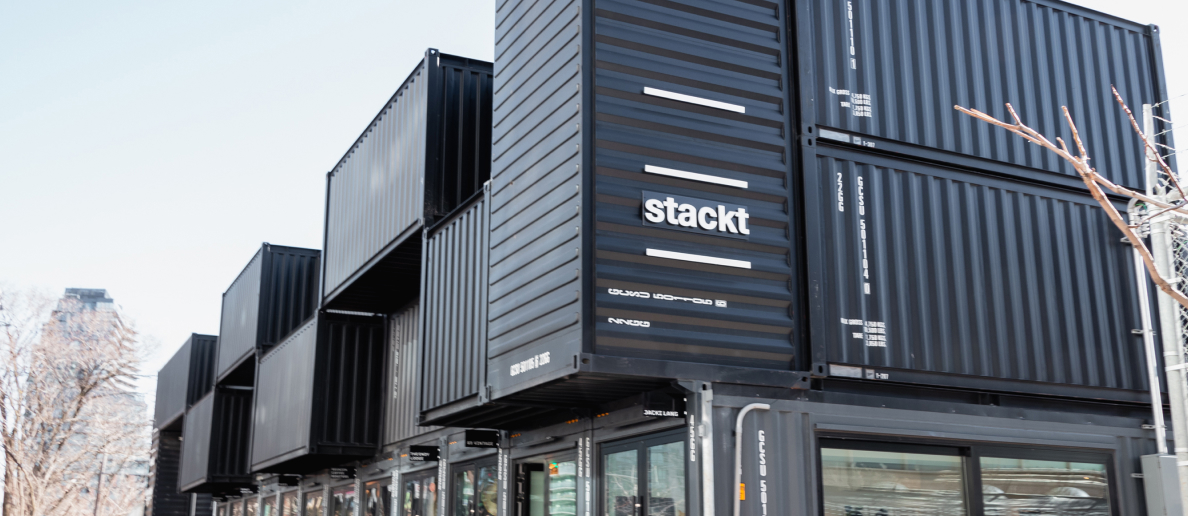 As our patios, restaurants and main streets opened, we discovered the true meaning of our tangible connections. There's no substitute for being around a table – picking up on the nuances, exchanging glances, bouncing ideas, laughing till we cry. The equivalent would be exhausting by text.
Reciprocity
Smart brands started rebalancing early. Listening with all ears during lockdowns, they learned from online and offline behaviours, integrating their best lessons into experiences that reflected the needs expressed by their customers. Customers, in turn, have reciprocated by sharing their brand discoveries and positive thoughts with their communities.
Consider the fashion industry. With concerns about overproduction, some brands have taken matters into their own hands. Digital dialogues with customers and concerns about wasted resources have led them to counter fast fashion with on-demand production. It's a case of listening to what's needed.
Vincero watches focuses on a small-batch manufacturing process that balances value with quality. Toronto jewellery designer Michelle Ross uses social media to determine international customer preferences, avoiding guesswork and overproduction. Aloha's on-demand model "means the brand holds off on production until customers have placed their orders, providing valuable insights that indirectly yet precisely inform production teams of what models people really want."2
Conversely, brands are also turning to exceptional in-store retail experiences to shape augmented reality (AR) and enhance the customer journey online, creating more fulfilling digital encounters that replace the traditional product squares. New York's thematic toy store CAMP concentrates on family experiences in real life. Quick to react to the changing circumstances of the pandemic, CAMP's virtual birthday parties reached 10,000 kids around the world and eventually attracted sponsorship dollars to pay for the parties.
In an era when reciprocity has been distilled to an exchange of likes on social media (like my post, and I'll feel obliged to like yours), it's good to see consumers recast as collaborators and refreshing to encounter business models that revolve around people rather than channels or products.
Circularity
The past couple of years have forced us to examine our relationship with cause and effect. What goes around comes around. We've become more conscious of our physical world and the real impact we have on it. Questioning a take-make-dispose approach, individuals and corporations are re-examining their ecosystems and addressing resource cycles to create a more sustainable future.
As we regain consciousness, there's greater acknowledgement that we can't return to business as usual. So, how do we redesign our world and the way we work, live, socialize and travel?
IKEA has committed to becoming 100 per cent circular by 2030. Focusing on turning waste and surplus into a resource, they are testing "more circular solutions such as furniture leasing, sell-back schemes and helping customers repair, reuse and recycle old furniture or give it a second life through reselling."3
In their 2019 financial year, IKEA successfully gave 47 million products a second life, 38 million products were resold through the As-Is specialty shop and more than nine million products were repacked and returned to the shelf. A joyful example of real-world transformation.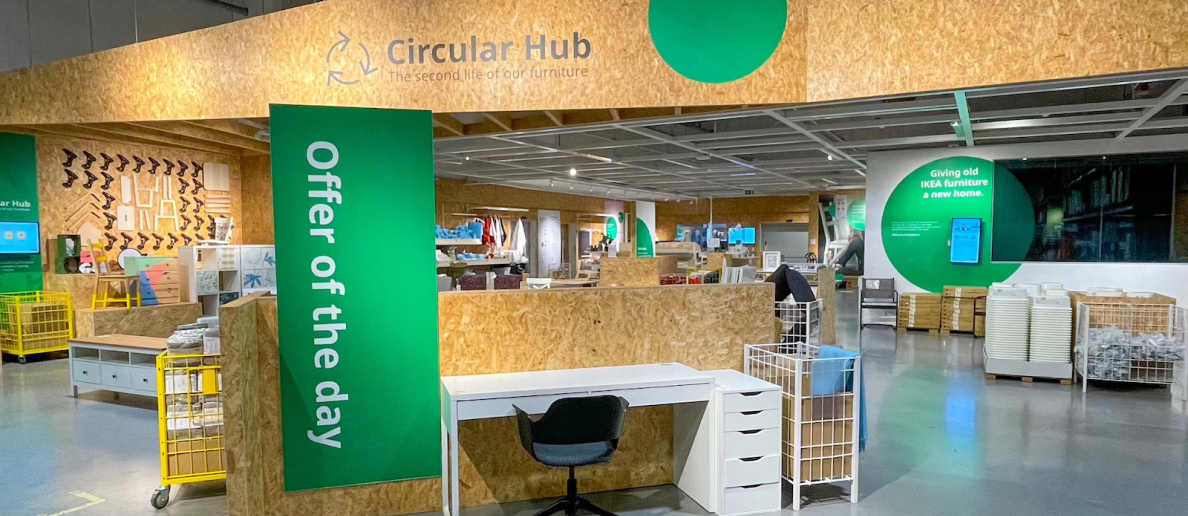 Community
We need to talk about Ted Lasso. Apart from the online necessities of life and the streaming service that brought the show into our homes, this runaway success of a series from Apple TV+ is an affirmation of hopeful, happy connections in the real world. From the pub to the pitch, from the locker room to the laneways of London, Ted Lasso's cast of imperfect humans reminds us of what it means to be part of a community that cares.
When our real world shrank, we became hyper-focused on our immediate vicinity. We rediscovered the importance of community. Seeing our surroundings through new eyes presented an opportunity to redesign our collective responsibility and contribute more meaningfully to the fabric of the microcosm we call home. Our house, our street, our neighbourhood, our city, our province, our country. We've found comfort in the everyday, in the familiar, in those closest to us.
Tangibility
In the summer of 2021, my husband and I travelled across provincial borders – rediscovering the sheer delight of a road trip instead of reading about it in a travel blog. It opened my mind to creative and soul-filling experiences that I'd missed on the digital side of the divide. Some experiences just get lost in translation when you try to replicate them digitally.
We were no longer passively falling down the rabbit hole of a feed that had been curated for us. We connected with the story of Irish immigrants at the quarantine station on Grosse Île. We overheard unscripted conversations between gardeners tending to the Montreal Botanical Garden. We experienced first-hand the magnificence of glacial valleys in the Hautes-Gorges. And we were viscerally reminded exactly why Old Québec is a UNESCO World Heritage Centre.
That summer, Ontario peaches and wild blueberries, raspberries and strawberries from the Île d'Orléans never tasted so good. Celebrity chefs have long struggled to connect us with the source of our food – urging us to see beyond the takeout containers and plastic wrap to make seasonally educated choices. It took a global pandemic to bring the point home. While you can like the social media post of my delicious breakfast, you're only experiencing it in one dimension. You're missing the aroma, the texture and the sheer joy of that first bite. Community supported agriculture (CSA) programs, farm-to-table restaurants and garden-to-kitchen home cooking have all heightened the connection to provenance, while supply-chain disruption has alerted us to the dangers of overconsumption, exotic imports and the fragile nature of our food networks that rely so heavily on technology.
Opportunity
I was reminded recently that the brain functions best when all parts are performing together. When our impulsive reptilian brain dominates, the reasonable frontal lobes have a hard time keeping a lid on everything. It's a positive collaboration that extends to so many aspects of life and leads me to think that now's the time to get our virtual and physical selves working together. In the race to digital transformation, many companies have landed in a space that's not very thoughtful. To redress the balance, we need to integrate our experiences, infusing them with human factors and authentic meaning. It's perfectly possible for our physical and digital worlds to borrow from each other, merging skills and pairing strengths. If this is to be our defining moment, let's make it one that's worth writing home about.
Amanda O'Donovan is a freelance business writer and content specialist with a background in marketing and sales. Her experience spans many industries. From editorial content to white papers, Amanda's writing sparks emotional connections, bringing clarity, humanity and sincerity to business communications: info@amandaodonovan.com
This article originally appeared in the 2022 Year Ahead Issue of INCITE.
Sources:
1Dwight, H. "One Year Later: 8 Reflections From The Pandemic," Forbes.com, May 23, 2021.2.
2Alohas.io. "An on-demand experience."
3IKEA.com. "A circular IKEA – making the things we love last longer."
An integrated mindset starts here
Explore how integration is expanding its role in helping businesses grow.
Get INCITE magazine

Amanda O'Donovan is a freelance business writer and content specialist with a background in marketing and sales. Her experience spans many industries. From editorial content to white papers, Amanda's writing sparks emotional connections, bringing clarity, humanity and sincerity to business communications: info@amandaodonovan.comRead more by Amanda O'Donovan