The way Canadians shop is constantly evolving. Consumers have more choice (and distractions) than ever before. Today's path to purchase involves multiple touch points and many channels. In this environment, the catalogue has reinvented itself and emerged as an essential element of the omni-mix.
A welcome respite from the digital clutter of everyday life, catalogues provide the vibrant, tactile, visual experience that millennials crave. And, with consumers increasingly shopping for lifestyle solutions rather than individual products, many of today's catalogues are inspiring shoppers with editorial content and aspirational imagery that remains visible for months in homes across Canada.
Create a catalogue
Mary Cochrane is Director of Enterprise Marketing at Canada Post. She says that catalogues are not just for large retailers. With so many different formats to explore, they're a great way for any business or not-for-profit to:
Connect with millennials
Find new customers and donors
Engage lapsed shoppers
Create customer loyalty
Increase order values
For first-timers, producing a catalogue can be daunting. But not every catalogue needs to be the size of a Restoration Hardware source book. Now there are choices – lookbooks, style guides, magalogues, gift guides and mini-catalogues – multiple ways to connect buyers with brands.
4 tips to get better results from your catalogue
Get personal: Simply using a customer's name is no longer enough. Data – used respectfully and intelligently – can help you create personalized catalogues based on demographics and buying patterns. Advances like variable printing allow you to tailor offers to purchase behaviour, use trigger marketing to focus on events like birthdays, or reward high spenders with additional offers.
Align with online: Be consistent across channels. Your customers should immediately see the connection between your catalogue and all your digital channels. This is your opportunity to tell your story everywhere. A catalogue connects your brand with sensory shoppers and feeds their appetite for the narrative to play out in the online space. Think about how the elements of that story fit together and how they each amplify your key messages, aesthetics, culture and values.
Test for success: Find out what works best by trying different designs, papers, features, offers, products. Consider predictive eye tracking (PET) to optimize your catalogue layout before spending money to distribute it.
Measure outcomes: Ensure you set up your campaign to test and measure, enabling you to track the success of your catalogue against objectives, and refine accordingly.
Favourite catalogue formats
The mini-catalogue
A powerful format for driving shoppers online or in-store to discover more. A minimum of 8 pages and up to 50 grams, it's a creative way to stretch budgets, feature new products, share expertise and introduce offers. These high-impact pieces are a quick read – great for sharing products and brand stories with time-starved shoppers.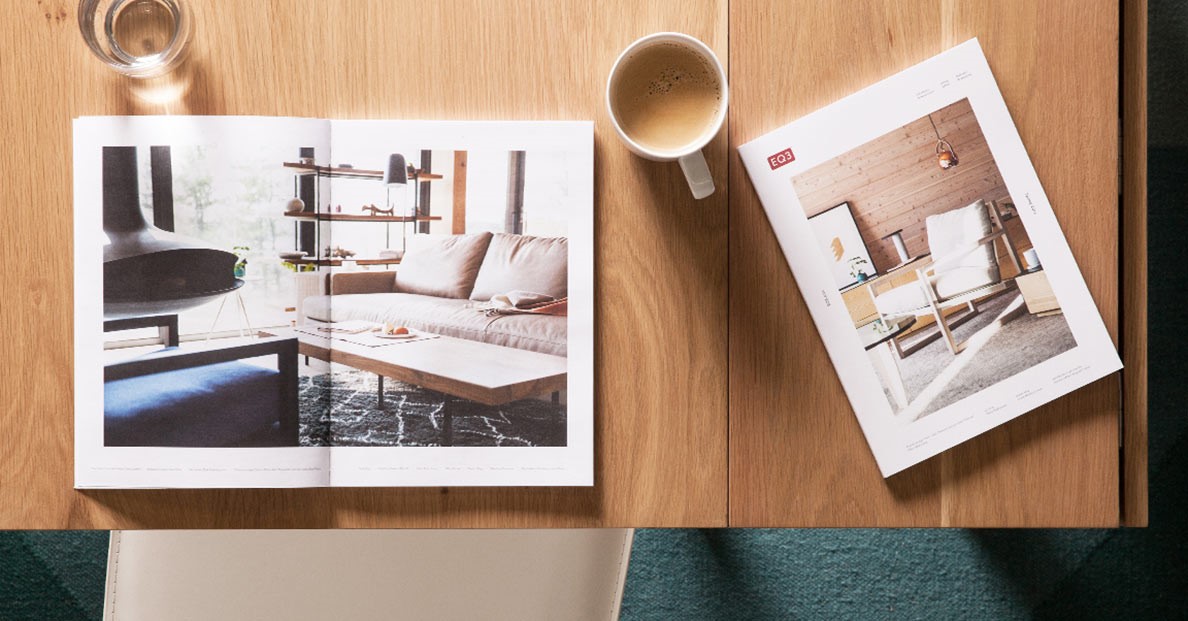 Multi-channel integration
Mini-catalogues anchor an integrated campaign, pointing in-store or to online assets, which tell the broader story with elements like video, photography and reviews. It's also a good idea to use unique hashtags to link your catalogue to social media.
When's the best time to mail a catalogue?
Drop a mini-catalogue just before peak season. Think Mother's day, back-to-school, Black Friday, Cyber Week and the Holidays. The mailbox is less crowded than it used to be, so it's a great way to differentiate yourself from the digital clutter.
Roots Canada and the mini-catalogue
During the back-to-school season – a peak time in retail when many people hit their reset button – Roots sent a mini-catalogue targeting independent and creative women and men between 28 and 35. The national mailing featured bold photography alongside references to Roots' more than 40-year history, offering valuable content to engage this audience.
We wanted to represent the best elements of the new collection in an elevated way, balancing editorial and product content. We wanted to shift perceptions – have back-to-school information but also tell the story of our heritage. It's something you want to keep on your coffee table, flip through and spend time with.
Read more: Deepening Roots: how an iconic Canadian retailer strengthened ties with millennials
Gift Guides
From Valentines to Mother's Day and the Holidays, the gift guide takes the sting out of searching. In the case of the Holidays, these highly anticipated catalogues from charities, retailers and food and beverage merchants, among others, start arriving in mailboxes around the first week of November.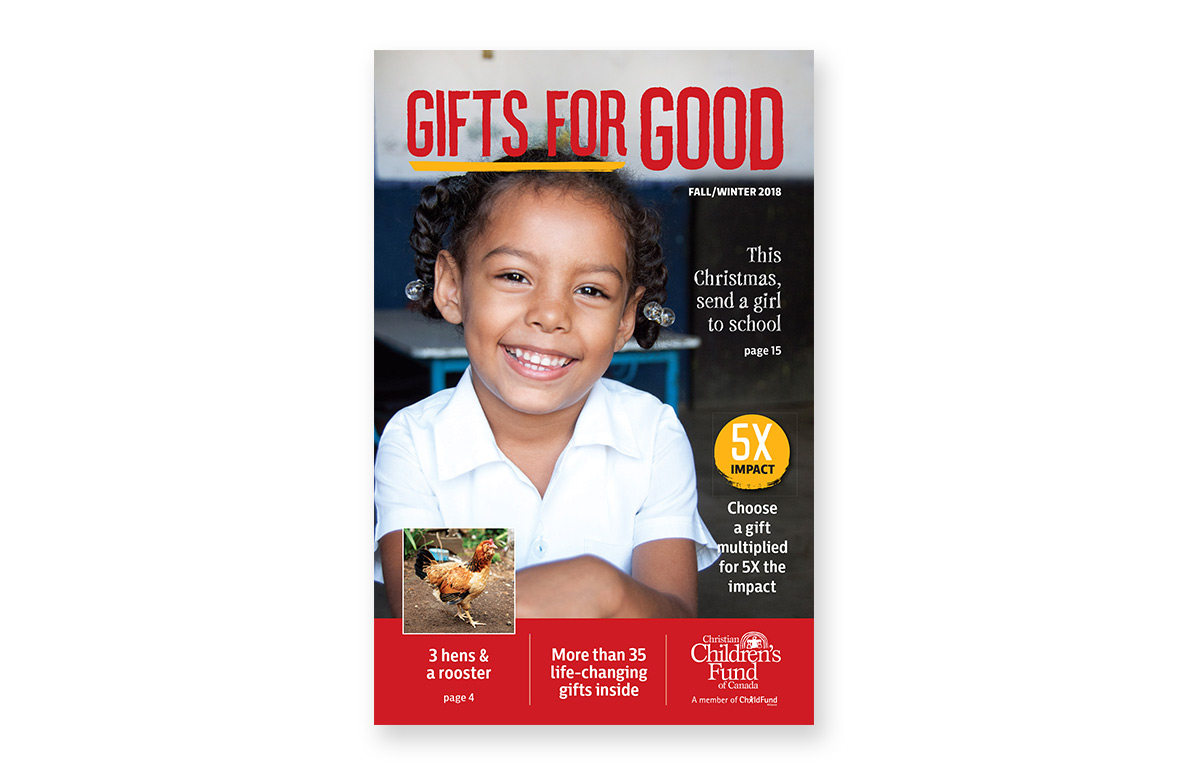 A Canadian toy catalogue
Mastermind Toys is Canada's largest specialty toy and children's books retailer. Its 2017 holiday gift guide showcased over 375 toys, and featured the season's must-have items. The printed catalogue was also available digitally, and all items contained in both were available at Mastermind's 60 locations in seven provinces across Canada. As a key element of this integrated shopping experience, the catalogue also drove parents to an online gift-finder tool for curating lists to share with family and friends. To encourage traffic, the company offered free gift wrapping on all in-store purchases and personalized gift tags with all online orders.
Charitable giving
Mastermind also used the catalogue to highlight its annual holiday Giving Back fundraising campaign, inviting customers to support the WE Charity both in-store and online. 
Lookbooks
A very visual form of catalogue, the lookbook is the perfect vehicle to showcase seasonal collections in aspirational settings – and is often associated with fashion and home brands. The 48-page Maplelea catalogue focuses on fashion. The clothes and accessories are for dolls. Responding to the American Girl Dolls phenomenon, Maplelea Girls are both an inspiration to, and a reflection of, Canadian girls – highlighting Canada's unique heritage, culture and geography.
Maplelea's president, Kathryn Gallagher Morton, explains they initially struggled to get the dolls into independent toy stores. Almost ready to call it quits, she arranged to put a paper catalogue into a polybag with Chickadee magazine. Nobody thought it would work. But the results were instant. "As soon as the paper catalogue hit, the phones lit up. We were getting orders from every city and rural town in Canada."
In time, the company enabled its online sales channel and stopped selling to toy stores. It expanded its use of catalogues, sending them out to targeted households via direct mail, polybagging with children's magazines, and getting them into places where mothers were, including dentists' and doctors' offices.
Paper catalogues remain the backbone of our marketing program. We have incorporated digital – but you can blow through a lot of money on a digital campaign. You have to closely watch your metrics. It can cost $1/$1.50 when someone just clicks on an ad. Yet for about the same amount, I can get a catalogue into their home where it gets held and read. Kids go through it. Parents look at it. People share it. It stays around for far longer than a digital ad. For us, catalogues offer a lot more value.
Links to catalogue advice + templates
Although many companies seek the help of an experienced designer or marketing agency to create a catalogue, there are resources available to create your own. Take a look at these examples to get your catalogue ideas rolling. Canada Post experts can always help with your questions:
Read more about why you should integrate catalogues into your marketing mix:
What type of catalogue will drive better results for your business? Consult a Smartmail Marketing™ specialist.
Talk to an expert